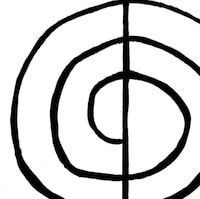 After attending my Western Style Reiki level two course, I came away a little perplexed. I felt as though something wasn't quite right with some of the teachings. This was not the fault of my teachers, but more with how the Reiki teachings have been passed down through the Reiki lineage.
The thing that didn't feel right for me was the use of the symbols. Don't get me wrong; I certainly could feel a difference with each symbol and the different vibrations they created when we used them during the course.
I was more uncomfortable with how we applied these symbols and how they were to be used during treatments. This process, just didn't feel right, in fact, I politely challenged the symbols and their use, especially the concept where we were taught to apply them all at the same time.
My teachers took my challenge on board and said they would speak to their teachers. This I loved, but unfortunately the answer came back the same….
"Apply all the symbols and let the Reiki energy decide which one to use"
This didn't make sense to me. After completing my Reiki level one course, the experiences both with self-healing and hands on healing for others, was amazing. The results, and people's experiences, built up such a trust in me with Reiki. Simply, set your intent and allow the energy to do what is needed for the highest and greatest good. So, I thought 'why do we need to use symbols then?  If we simply apply all symbols and allow the energy to choose which symbol, why not just let the energy choose in the first place, with no need to apply any symbols?'
I decided not to use the symbols as I was taught. Instead I followed my intuition and used CKR or SHK whenever I felt guided to.  I left HSZSN to distant healing only.
I felt much more comfortable using the symbols this way. 
Then I attended my Reiki Master course. During this course we learnt the DKM symbol. We were told that we could use just this symbol now.  Although, if necessary we could use CKR to power this symbol up.
The course itself was amazing, the difference in the energy, was such a leap forward. But again, I left feeling a little indifferent about the symbols.
If there was a symbol that meant we didn't need to use the other two symbols, then why didn't we just learn this one?  And, if this symbol was so powerful, why did we need to use CKR to power it up. However, the fact that we could just use one symbol and allow the energy to work for the highest and greatest good, without having to choose which symbol we felt we should use, made me feel more comfortable.
I started to use DKM during my treatments. Again, I could feel a difference in the energy while using it.
After a while, I started re-evaluate the symbols again. After a few years of practice, I had such confidence in Reiki and how it would always work on what was needed at the time.  I eventually let go of the symbols during treatments and went back to allowing the Reiki energy to guide me. 
I continued to practice this way until I came across "The Japanese Art of Reiki" by Frans and Bronwen. After reading this book I felt drawn to attend one of the IHReiki courses. A year or so later, I got the opportunity to do so. This book, as I am sure it has done so with many, really resonated with me. It just made simple sense.
The first day was entirely dedicated to the Reiki symbols. Frans went through each symbol with such clarity and understanding.  It finally seemed right. The understanding of the symbols, how they interlinked and their purpose.  The philosophy behind them, was so interesting.
We chanted the symbols as a group, which was amazing. We meditated with the symbols, which again, was a brilliant experience. The day just left me bubbling with excitement, and with a real need to get home and practice.
As soon as I got home I started my daily practice.  Everyday was a new experience, which left me even more eager to practice the next day.
I am now writing this, with only three weeks of practice behind me. This is because a question has been asked….
After having worked with the mantras and symbols how do you feel that they have affected your life?
The simplest answer would be for me to say, it has changed everything that I had ever thought about Reiki. I don't really want to make this next comment, because it's used way to easy in life these days, but it really does sum up everything.  Using the Mantras, symbols and daily practice has changed my outlook on life itself. 
I have already stated that it has only been three weeks of practice.  But I feel as though I have been practicing for years.  Not because I am not enjoying it, or that it is chore. But because so much seems to have changed in that time, and the number of different experiences I have had since the course is just mind blowing. I have been very blessed in life to have, many wonderful and personal experiences spiritually, but I've never had so many in such a short space of time.
One of the biggest things to change is myself. Many people have commented how I have changed, some commenting that I am different man.
I have noticed how different the Reiki treatments are, and again, clients have commented how different their Reiki sessions feel. They are not aware that I have attended a course or that I am doing anything different with my Reiki practice.
By far the biggest change is the fire within me. It has truly been reignited.
I can feel the internal fire roaring inside. And there now seems to be a sense of peace and deep understanding within.  I am beginning to truly find myself and understand who I really am. 
Having experienced so much in such a short space of time, I know that I have truly found what I have been searching for.
A spiritual practice where I know that in time, I will reach an understanding far beyond my comprehension right now.
Simon Bailey is a Shinpiden Reiki Level III graduate of the International House of Reiki. Simon runs the Navitas Centre in the UK.