Below are the animal photo entries in our competition and the winners! The top 5 entries each win one of our new Reiki Relaxation: Guided Healing Meditations
produced by Sounds True.
The winning entries are
Photos 1, 7, 15, 19, 21, 25, 24
Photos 1, 19 and 21 were all entries by the same person 🙂 so we've added two more entries to the list so that there are 5 winners in total. And there is a special mention winner for Photo 16 from our photoshop specialist Bella – who loved the picture and the puppy looks just like her own Rosie. Congratulations you also get a free Reki Relaxation CD.
Here were our animal photos if you'd like a laugh.
And you can read all about the new CD here.
Photo 1 WINNER
Paul thought this might suit?
Photo 2
Janet's goat, Sierra,loves Reiki too.
Photo 3
Lea's puppy is a Reiki fan too.
Photo 4
Lea couldn't decide which photo to put in – so here is number 2.
Photo 5
Jim sent his cat in with the caption
"Anjali preparing for her workout"
Photo 6
Paula S. sent these wee ones in.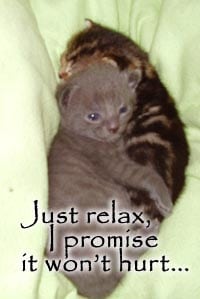 Photo 7 WINNER
Maz thought we might like this one.
Photo 8
Katherine sent us these guys in their Halloween outfits.
Photo 9
This is Paula's maltese poodle.
Photo 10
Susan discovered Insect Reiki
Photo 11
Don's cat was apparently saying "I even offer Reiki to people while they are working".
Photo 12
Susan's dogs had this to say
"I know mum talked about a Reiki Shower but are you sure we've got the details right Charlie?"
Photo 13
Carol's cat said "Go meditate, you silly human!"
Photo 14
Paula's puppy is a bit put off by the snow.
Photo 15 WINNER
Susan's dog Che had this to say:
Photo 16 WINNER
Tony's dog is definitely COOL.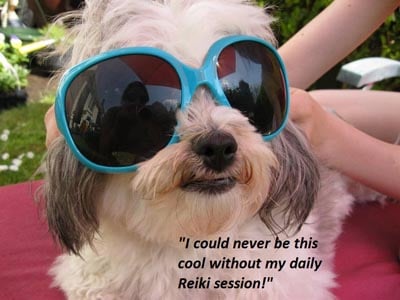 Photo 17
Dale's dog is saying " "Sit? Stay? Shake? I'll even stand on my head for Reiki!"
Photo 18
Joan has captioned this as "Having completed Okuden Level II earlier that day, Anikan, Sticks and Bunker remain enthralled with REIKI".
Photo 19 WINNER
Paul seems to know a smart bear…
Photo 20
Paul also has insider info about these monekys and their thoughts.
Monkey 3:Harold, I wish you would stick to the regular hand positions when we do these demonstrations.
Monkey 1:Mmm – Hrrmpf
Monkey 2:Give him a break Frank. You know Reiki will work wherever we place our hands.
Photo 21 WINNER
Clarissa has told Paul all about her clients' likes and dislikes. This is an apparent favourite.
Photo 22
Aileen's pup is a Reiki regular by the look of it.
Photo 23
Waiting for Reiki!
Dog 2: Reiki newbies, the pair of them. I'm already relaxed just thinking about our session.
Dog 1: Is the Reiki lady here yet? I am so excited to have my first session my tail won't stop wagging.
Cat: I better get the first session. After all I live with TWO dogs!
Photo 24 WINNER
Liz's dog has the right idea!
Photo 25 WINNER
Marys' caption is "Serenely Centered"
Photo 26
Mary's caption is "Wow!What a session"
Photo 27
Ann's dogs in "Relaxing on Cloud Reiki – PLEASE DON'T STOP!!!"
Bronwen and Frans Stiene are the co-founders of the International House of Reiki and co-authors of The Reiki Sourcebook, The Japanese Art of Reiki, Your Reiki Treatment, The A-Z of Reiki Pocketbook and the Reiki Techniques Card Deck. Bronwen and Frans teach in the USA, Europe and Australia. Visit the Courses page to find a course near you.