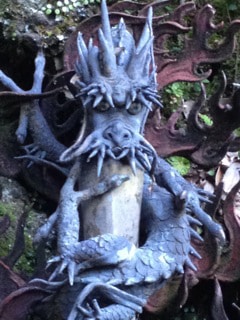 How my recent shugendo training has informed my understanding of the system of Reiki
As some of you might know I recently went to Japan to train with a Japanese Shingon priest, Takeda Hakusai Ajari, who was once a Tendai monk as a disciple of the great Sakai Dai Ajari, learning about Shinto, Shugendo, Tendai and Shingon. This training has brought me different insights into the system of Reiki and Mikao Usui.
The first thing Ajari said about the system was that for him Reiki means "our true self/true nature" and that therefore the system of Reiki is all about discovering our true selves.
While practicing these teachings throughout the week I became aware of certain similarities between the meditation practices and the meditations taught within the system of Reiki, like Hatsurei-ho and Joshin kokyu ho, for example. The Reiki meditations are clearly simplifications of more elaborate meditation practices within Tendai, Shingon, Shugendo and Shinto. Did Usui-san simplify these more elaborate teachings to make them more accessible to lay people? I also started to see the same things happening within the symbols and mantras of the system of Reiki. How similar tools are used within the more traditional teachings of Tendai, Shingon, Shugendo and Shinto. When the Ajari performed the Goma (Fire ritual) I became aware of the focus points of the head, heart and tanden/hara, these areas are traditionally also connected to the symbols and mantras taught within the system of Reiki. Through watching this ritual I saw and experienced deeper layers to this connection.
We also discussed the reiju/attunement/initiation and how traditionally this was seen as an initiation from mind to mind ( Jp. nyu ga ga nyu), but to be able to facilitate this we first need to purify our own minds as teachers, which might take years and years of practice. Therefore, to be able to perform a reiju from this viewpoint we need to have "a great mind": a clear mind without anger or worry, and one that is compassionate. This is, of course, far easier said than done. Many modern teachers say that they perform the reiju/attunement/initiation from this perspective, yet they also claim that they are the only ones who have Reiki, and that after the student receives the reiju/attunement/initiation the student also has Reiki.  This is not in line with the Tendai, Shingon, Shugendo and Shinto teachings in which it is understood that we all have Reiki already, we just haven't realized it yet. To claim that others do not have Reiki until you perform a ritual on them is also statement without compassionate – in true compassion we are all the same, no one is without Reiki.
In many modern practices, the tools taught within the system of Reiki are externalized (you do "things" with them), while in all the traditional Japanese teachings they are internalized for contemplation.
Being back now for just over a week, I  am slowly starting to integrate the teachings into my life and practices. I am beginning to see clearly how I
can improve our own classes, they way we work with Joshin Kokyu-ho, Hatsurei-ho, the symbols and the mantras, taking our students even deeper into the teachings of Mikao Usui.
I hope to write some more detailed articles on my insights so that everyone can benefit from this journey. Always keeping at the heart of it that the most important element within the system of Reiki is finding our true selves/Reiki.
PS: I've also found something that might have inspired Usui-san's Reiki Precepts!
Read about Frans' Japan JournaL
JOIN FRANS FOR A REIKI COURSE OR REIKI RETREAT
Based in Holland, Frans Stiene teaches in North America, Europe, UK, Australia and Asia.
Frans is also the author of Reiki Insights, it is the continuation of his previous book The Inner Heart of Reiki, taking your personal practice and understanding of the system of Reiki yet another step deeper.