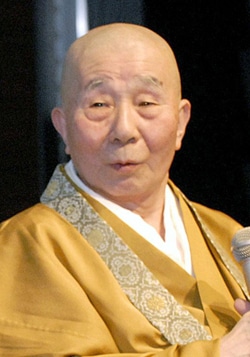 Buddhist monk Yusai Sakai, known for twice achieving "sennichi kaihogyo", the 7 year practice of he Marathon monks, died of heart failure Monday, his family said. He was 87.
Senior Reiki Teacher at the International House of Reiki, Frans Stiene studies with Hakusai Takeda – a direct deshi (lineage disciple) of Sakai Ajari.
To mark Sakai Ajari's passing Frans wrote this poem:
It was time
Sakai-san stood up
Stepped on a cloud
and merged with the universe
Read The Japan Times Obituary.
Based in Holland, Frans Stiene teaches in North America, Europe, UK, Australia and Asia.
Frans is also the author of Reiki Insights, it is the continuation of his previous book The Inner Heart of Reiki, taking your personal practice and understanding of the system of Reiki yet another step deeper.