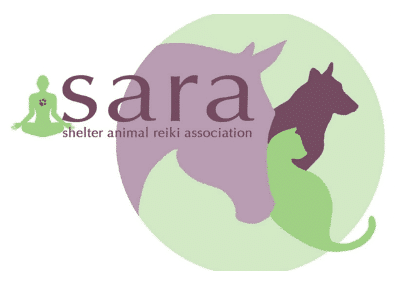 Leah D'Ambrosio and I met at BrightHaven in September of 2007. BrightHaven is a senior and special needs animal sanctuary and hospice specializing in holistic care. Over snacks during the break during one of my BrightHaven Level 1 Reiki classes, I mentioned to Leah my "dream" of seeing Reiki implemented in shelters all over the world. All shelter and sanctuary animals should have access to Reiki treatments to support stress-relief, healing and well-being, I expressed to her. All shelter staff should have access to Reiki training so that they could use Reiki for self-healing/stress-relief and to help the animals in their care. "Count me in!" she said, and we laughed about it. Sure, no problem, just start a nonprofit and spread it worldwide. No problem at all.
Well, here we are, less than three years later, and that's exactly what we've done together through our strong partnership and the assistance of our amazing and hard-working volunteer members all over the world. SARA, The Shelter Animal Reiki Association, now has 28 animal organizations as members, 26 practitioner members, and 24 teacher members. Our members volunteer all over the United States, and we also have members in Canada and England.
Our teachers train interested shelter staff and volunteers in SARA courses such as Level 1 Reiki/Reiki for Animals and Level 2 Reiki/Reiki for Animals, Both practitioners and teachers are trained to educate the general public and shelter staff in an Introduction to Reiki for Animals and Self-care for Animal Caregivers.
We have created a standard protocol for offering Reiki where the animals are honored for their inherent wisdom and approached with a gentle openness. Our practitioners don't "do" Reiki TO the animals, we learn to meet them as a partner in healing, inviting them into a Reiki space for any healing they might be open to receive. Physical contact is not used unless it is initiated/asked for by the animal.
In addition, SARA is building bridges with the veterinary community, and we often have veterinarians and veterinary technicians among the students in our classes. Reiki is a wonderful way to support the health and wellness programs implemented by veterinarians for the animals in shelters and sanctuaries. Many health problems veterinarians deal with in shelter and sanctuary settings, such as stress/anxiety, respiratory illnesses and skin conditions, as well as the chronic conditions of aging animals can be supported and mitigated through a regular Reiki program.
Our practitioner and teacher members volunteer Reiki for companion animals such as cats, dogs, rabbits and guinea pigs, horses, goats, cows and pigs, and even wild animals such as owls, hawks and squirrels. Animals have an inherent energetic awareness and appreciation, and seem to gravitate towards the treatments, understanding how much the energy can support them. The trust and bond created between Reiki practitioner and animal is an amazing thing to witness.
And so SARA moves forward into 2011, reaching more animals, people and organizations every day. All this has manifested, just from our simple conversation around the BrightHaven table, while surrounded by BrightHaven's amazing animal teachers. It just shows you that with Reiki, really anything is possible! BrightHaven was SARA's first official member organization, having offered Reiki as part of its program for almost six years. Gail and Richard have been wonderful supporters of Reiki and SARA, thanks to the healing results they have seen for many of their animals.
We hear more and more beautiful Reiki stories every day from our members around the world. Please visit SARA's blog to meet our SARA members and read real-life animal stories of the amazing work they are doing with Reiki for shelter and sanctuary animals at http://www.shelteranimalreikiassociation.org/blog/.
by Kathleen Prasad, SARA President and Co-founder