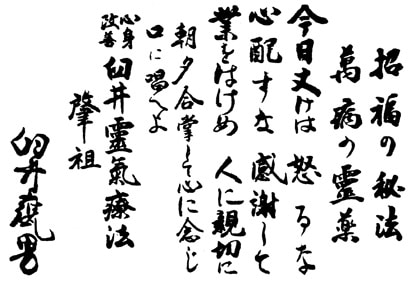 Around 1853 in the Edo period of Japan The Old Man's Favourite Adages, Oyaji No Kogoto, appeared. No one knows who wrote it, but what is interesting is that it includes similar ideas to the Reiki Precepts.
Some say that Usui-san took his precepts from a book from 1914 written by Suzuki Biza; Kenzen No Genri 健全の原理 – Principles of Health.
The following work, however, published in 1853, already extolled such principles as do not anger, do not worry, work/practice diligently, be kind and humble. In fact, they were very much a way of life in traditional Japan, and irrevocably linked to existing Buddhist principles.
See if you can find the Reiki Precepts here…
The Old Man's Favourite Adages 親父の小言
朝きげんよくしろ
Be pleasant in the morning
人の苦労は助けてやれ
Help others in trouble
人には腹を立てるな
Do not be angry at others
火は粗末にすな
Do not waste fire
恩は遠くからかえせ
Return favors discreetly
風吹きには遠出すな
Do not travel on stormy days
人にはばかにされてろ
Be a sucker
年寄りはいたわれ
Be kind to elders
年忌法事しろ
Do not forget memorial services
初心を忘れるな
Do not forget beginner's mind
家業には精を出せ
Work diligently
借りては使うな
Do not use if need to borrow
働いて儲けて使え
Spend only what you have earned
義理には欠かすな
Do not neglect obligations/duties
人には貸してやれ
Lend yours to others
大酒は飲むな
Drink in moderation
ばくちは決して打つな
Never gamble
貧乏は苦にすな
Do not consider humble life as hardship
大めしは喰うな
Eat in moderation
水は絶やさぬようにしろ
Always keep water at hand
自ら過信すな
Do not be overconfident
怪我と災いは恥じるべし
Consider injuries and accidents as (self-inflicted) embarrassments
戸締まりにきをつけろ
Lock your house
産前産後は大切にしろ
Rest before and after childbirth
何事も身分相応に
Live within means
万事に気を配れ
Be attentive to all things
泣き言は云うな
Do not whine
家内笑って暮らせ
Let there be laughter in the house
神仏はよく拝ませ
Respect higher beings (gods/buddhas)
女房は早く持て
Marry early
家内安全開運長久一路平安祈念胎之
Prayer for the safety of the household, good fortune and peace

(Thank you Hiromi Hayashi!)
Bronwen and Frans Stiene are the co-founders of the International House of Reiki and co-authors of The Reiki Sourcebook, The Japanese Art of Reiki, Your Reiki Treatment, The A-Z of Reiki Pocketbook and the Reiki Techniques Card Deck. Bronwen and Frans teach in the USA, Europe and Australia. Visit the Courses page to find a course near you.