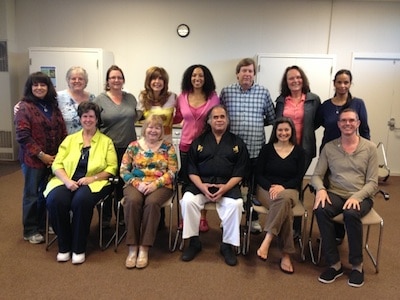 Here is a photo of our lovely Shinpiden students from Los Angeles last weekend. Welcome!
As the moon grew towards fullness, 12 of us gathered in L.A. to meet our teacher for Shinpiden training, and it was a gorgeous journey – one that I hope you'll take with Frans yourself.
Frans is unexpectedly playful, generous and kind.  He beautifully embodies for us "be true to your way and your being." His spirited nature is enhanced by the profound wisdom he offers in conversation with students. The depth to which he tends to each student's curiosity is clearly due to his own committed practice and compassion for others.
I've practiced Reiki for over 6 years but I feel I'm only at the beginning of the journey – the beginning of embodying the practice, living the precepts, communing and being.
I came away with greater understanding, deeper perspective and a different way of knowing.  Just as the moon reached its fullness on my drive home, I too felt illuminated. But I also know this is only the beginning.
Stephanie Holland
Frans and the Shinpiden class are absolutely phenomenal. If you have an interest in furthering your knowledge and growth within the system you could not make a better investment. You will experience Reiki in it's purest form. The way it was intended to be practiced. If you give yourself this gift it will impact you positively in all areas of your life. Frans and Bronwen are supportive at all times. It is inspiring to be able to learn from two people that are so passionate about this healing art.
Tammy Britton, Los Angeles
This training certainly went above and beyond what I had expected! I joined with the intention of learning the pure Japanese style of Reiki so that I can be part in continuing this tradition and share it with students and clients. As soon as I signed up I felt the energetic connection to a powerful lineage as well as continuous support from Frans, Bronwen, and the people in the Ki Campus. What I didn't know was the level of inner transformation I would experience and how profound the connection would be with the group. Frans shared his amazing wisdom that he has gathered along the years.  It is impressive how much knowledge he has acquired and it truly shows his passion for Reiki. Surprisingly, he is hilariously funny, so we had great laughs all the weekend. We became a powerful family in just a couple of days and I am forever grateful, seeing the blessing unfolding in my new Reiki path.
Victoria Vives Khuong, Founder of Reiki Wellbeing
After reading The Japanese Art of Reiki by Bronwen and Frans Stiene in 2005, my Reiki practice changed completely. It was what I felt was missing from the Western style of Reiki that I was "initiated" into in 1994. Even though I utilized other resources from the International House of Reiki over the years, I longed to attend the Shinpiden Level III course. This February I was finally able to attend the course taught by Frans Stiene in Los Angeles. It was exactly the kind of course I dreamed it would be:  Not a reiteration of the IHR books, but rather a modeling of the five elements in the spontaneous laboratory of the classroom setting. It was clear that Frans practices and lives the Reiki elements. The reiju Frans shared were amazing to say the least. I left the three-day training, not only with new friends and attunement within the IHR Usui Reiki Ryoho lineage, but also inspired to deepen my own commitment to the Reiki spiritual path through the practices Frans taught. I am very grateful because that's exactly what I wanted!
Patsy Fine
Bronwen and Frans Stiene are the co-founders of the International House of Reiki and co-authors of The Reiki Sourcebook, The Japanese Art of Reiki, Your Reiki Treatment, The A-Z of Reiki Pocketbook and the Reiki Techniques Card Deck. Bronwen and Frans teach in the USA, Europe and Australia. Visit the Courses page to find a course near you.