Here are some photos of our lovely Reiki Level III Shinpiden group from Cincinnati this year.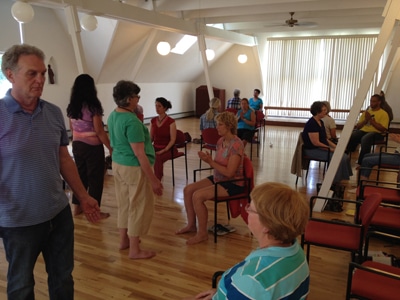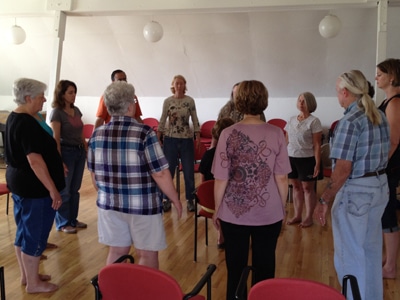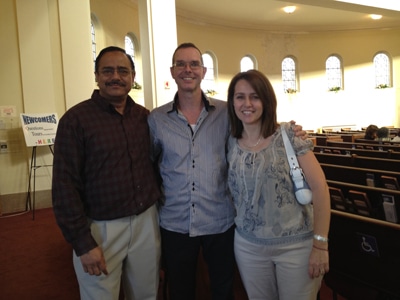 A big thank you to Sundar (above left) and Zeynep (above right) for organising such a great class!
Students Comments
Thank you for helping the scales fall from my eyes – for helping me realize that boundaries are passing illusions and that the dance of the energy is the dance of the universe and the universe is truly within us. I am so grateful that you are my teacher. With love and respect.
Kris – USA
I just wanted to say what a transformative and enlightening weekend. I was very honored to be a part of it. It was very refreshing to meet so many wonderful people on the same path. I also would especially like to thank, Frans, Zeynep and Sundar for all the hard work that they did to make it such a wonderful experience.
Lisa – USA
I'm stll processing the wonderful weekend. wow..
I don't have simple words to share what it meant to me (may be Gratitude), but I can share my notes:
– Reiki is the essence of our true nature
– Reiki as a sytem, is full and comprehensive, and has all the tools to make us recognize our true nature. The symbols, the Precepts, DKM space, they all point the same thing: our true nature.
– It's about form and no-form, not to "do" but to "be".
– Pre-requisites: openess, non-attachment (during the hands on treatment and during "every aspect of the life").
– Creating a solid foundation can bring expansiveness
– Let go of labels, embrace the opposites, positive and the negative.
– Filter everything form precepts, all day, every day. The feelings, emotions, thoughts and actions,on how we relate to others. So simple.
– Act from DKM space: No judgement, no attachment.Pure openness and let it happen.
Thank you everyone who made this weekend possible by sharing your love, your experiences, your being.
Thanks to Frans for being who he is and sharing with us unconditionally.
There will be another Shinpiden next year (timing TBD) and (possibly) a Retreat in 2014.
Zeynep – USA
http://reikinewsletter.blogspot.com.au/
You are an amazing teacher. The classes are instructive but great fun as well.
Barb – USA
Thanks for being you and allowing me to be me. Thanks for sitting in the nothingness that is all with me and being the best teacher I ever had.
Jeff – USA
http://reikiease.com/
I can't even begin to tell you how much I appreciate you coming and working with us. It means the world.
Linda – USA
http://www.lindasuter.com/
Gratitude to you for your guidance in the practical approach to the system of Reiki as a life long spiritual journey.
This is my second year and I feel a continued deepening of my understanding and connection to spiritual energy and my spiritual path.
Denyce – USA
http://www.centerthroughreiki.net/wp/
Words can't express the thank you for giving me guidance and means to further my spiritual path, thank you for all the questions answered.
Lee – USA
Thank you for everything. Also thank you for the guidance you have given me for my son.
Anita – USA
Thank you for your wisdom.
Don – USA
Thanks again, for clarity and all the great grounding during the treatments before the class.
The clarification and reinforcement is so helpful and to continue to seriously practice.
Thanks for an amazing weekend of spiritual blessings, laughter and wisdom.
Linda – USA
http://reflexneff.com/
Thank you so much for creating the space so clearly presenting the tools and holding the space for me to grow so deeply.
I have truly experienced such wonderful openness that I have never felt before, and so much more. I learn and experience so much each time I take the class.
Sarah – USA
Thank you for another wonderful weekend at Grailville. I took your class last year and I enjoyed this class even more. You are a great teacher and you make Reiki practices very simple and fun, please come back!
Rosemary – USA
Thank you, Frans for a second wonderful Shinpiden weekend. Your teachings are so on target and straight forward and profound.
Your energy so enlivening, your style so joyful and fun. Your spirit so generous and accepting. I am already looking forward to your return to Cincinnati.
Linda – USA
I wanted to send a note of gratitude for your teaching and giving of your spirit in the Cincinnati Reiki classes.
This week has been a remarkable one with many insights coming into play.
Shelley – USA
http://elmwoodinn.com/about/shelly_richardson.html
Bronwen and Frans Stiene are the co-founders of the International House of Reiki and co-authors of The Reiki Sourcebook, The Japanese Art of Reiki, Your Reiki Treatment, The A-Z of Reiki Pocketbook and the Reiki Techniques Card Deck. Bronwen and Frans teach in the USA, Europe and Australia. Visit the Courses page to find a course near you.