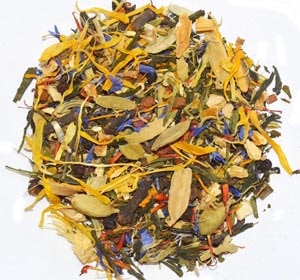 The system of Reiki is a Japanese practice and the principles of it align closely with many other Japanese Arts. One special Japanese Art is that of making and drinking tea.
Today we have something special from an American tea connoiseur who also loves Reiki.
Reiki Blend Ayurvedic Herbs & Green Tea (on the left) has been created by Reiki teacher Shelley Richardson of Elmwood Inn Fine Teas in Danville Kentucky – but don't worry you can buy it online.
Contains sencha green tea, ginger root, saffron, orange peel, fennel, clove, cardamom cinnamon, safflower, tulsi (holy basil) and licorice root. The enchanting aroma alone will invigorate you to good health!
Shelley is a Shinpiden Reiki Level III graduate of the International House of Reiki and is also the author of some gorgeous books on tea along with her husband Bruce.
Bronwen and Frans Stiene are the co-founders of the International House of Reiki and co-authors of The Reiki Sourcebook, The Japanese Art of Reiki, Your Reiki Treatment, The A-Z of Reiki Pocketbook and the Reiki Techniques Card Deck. Bronwen and Frans teach in the USA, Europe and Australia. Visit the Courses page to find a course near you.