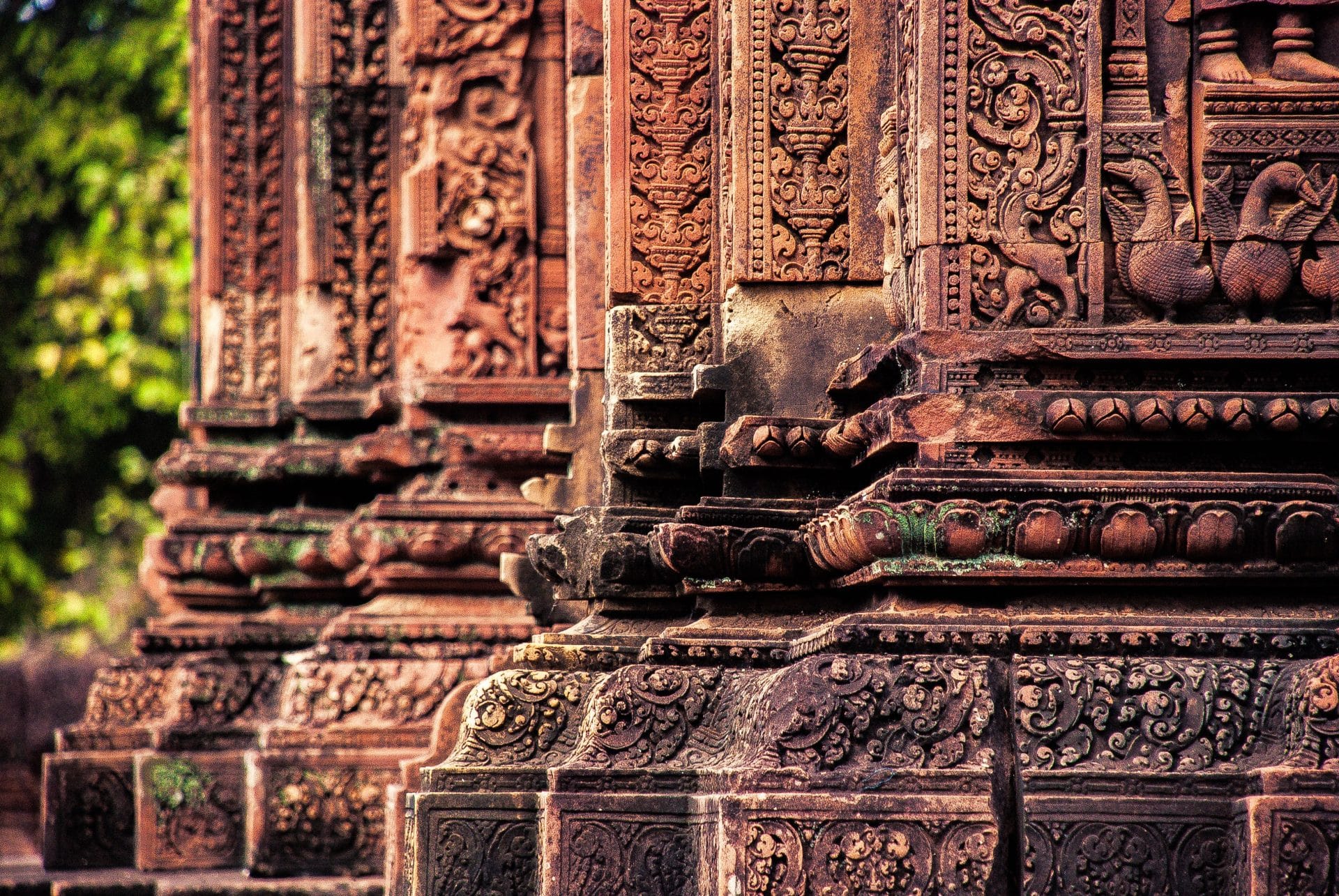 Phil Hunt and Tania Duratovic left Sydney in November 2000 on a two-year adventure. They flew into Singapore and have travelled overland through Malaysia, Thailand, Cambodia and Vietnam. They are heading through China, Mongolia and Russia and to eventually meet relatives in Croatia in July 2001. They also plan to travel overland to India after this. They intend to find volunteer work along the way on projects that deal with animal welfare issues, environment, human rights or cultural heritage. As Reiki Master/Teachers they will be continuing to practise Reiki as they go. The following article is from their impressions of Cambodia:
Boundaries are impressive things. A landscape that should be the same, sharing the same quantities of sunshine, rain and wind and having the same topography, can be divided by an unobtrusive line that creates two very distinct worlds on either side. In Sydney you can walk from the Hawkesbury Sandstone soils to Wianamatta Shale and notice the difference in vegetation and birdlife within a few metres. Human boundaries can be even more striking. The frontier that separates two countries is like a dam wall holding in a flood of different ideas, expressions, foods, fashions, technologies, histories, religions and customs. Crossing land borders always seems to highlight the similarities and differences of countries more strongly than dropping in by air. The countryside may be almost identical, yet many of the human elements may be totally distinct.
On our journey so far, we have travelled by road, rail and water through Singapore, Malaysia, Thailand, Cambodia and Vietnam. We also visited Myanmar (Burma) for a day to obtain a new Thai visa. Each border was different, each meant entering a place with a completely different language and history. Each one left us with different impressions – instant impressions of the people and their country. The two most striking have been Myanmar and Cambodia. In less than two hours in Myanmar we had accidentally strayed from the allowable 'tourist area' and were strongly questioned by the military, we had seen a soldier carrying an armful of hand-cuffs, seen the poorest looking people so far on our journey, and could not escape the feeling of wariness, suspicion and captivity that hovered around the town and the people who watched us. It felt as if we were in a zoo, with the Burmese caged in their own houses and fields and acutely aware that at 5pm, when the border closed, the Thai and foreign visitors would depart and they would remain alone, with no witnesses to their suffering (and certainly the Military government has long enforced this feeling as a policy – no-one in Myanmar is permitted to stay a night anywhere other than their own home without filling in a form and lodging it with the local police beforehand, even families. Large areas of the country are off-limits to foreigners, particularly those areas where forced labour is still practised). Going from Thailand to Myanmar is like pausing a holiday to visit a prison.
Walking from Thailand to Cambodia is more like an assault. The bitumen stops, organised public transport stops, and, after two months in Thailand, our ability to understand any of the local language stopped. Immediately leaving the Immigration booth we were swamped by a dozen or more young Cambodian men and boys asking where we were going and urging us to come with them for transport. Transport consists of 'pick-up' trucks and share taxis. Prices were much more than in Thailand and the comfort of your ticket-price far worse. You can either ride in the back of the pick-up (where you are generally sitting on your luggage surrounded by Cambodians and their goods and there is no protection from the dust and bumps) or inside (squeezed in with 1 1/2 people per seat, but less dust).
The roads in Cambodia are infamous. They would put an abandoned Australian fire-trail to shame. Pot-hole is probably the wrong word for the bath-sized craters that pock-mark the major roads. Some are large enough to lose a motorbike. In some places a section of bitumen, maybe 100m long is so pot-holed that drivers prefer to drive on the dirt beside it, eroding it until the bitumen stands like an alter above the worshipping vehicles.
On first arrival, it may seem incredible how the vehicles can actually withstand such abuse. On further observation, you see the trucks stranded in the middle of the road with the driver and passengers repairing broken axles, shattered bearings, torn tyres and every other ailment that could afflict machinery pushed as quickly as possible across moonscapes. The miracle, perhaps, is how you can repair anything in dust clouds bordering on soup. Apart from the few areas near more touristed and affluent areas, Cambodian life in the dry season near a well-trafficked road means being covered with dust.
And what does this have to do with Reiki, you may ask? Well, for us, within hours of arriving, we felt compelled to send Reiki to Cambodia! If ever a country needed Reiki, Cambodia would be high on the list. So as we were thrown around the back of a share-taxi in the growing gloom of our first day here, we sent Reiki. A small drop of positive energy in a place where millions died in only a few years, but better than being depressed by the history of Cambodia that we were only just learning.
Reiki in Battambang
The first place we stayed in Cambodia was the second largest city, Battambang. It appears more like a town than a city and there is obviously little money available to maintain roads or other infrastructure. We were struck by the poverty, on the one hand, and the large number of overseas aid organisations on the other. While a Cambodian man hand-pedalled his legless body around in a cleverly built tricycle begging for a few cents worth of change or some food, an expensive new Toyota Landcruiser would rumble past carrying a couple of well-paid officers working to establish much needed infrastructure or alleviate poverty in the region where, sadly, much of the funding goes on administration and research costs. There are many such extremes to be seen here.
Outside of the hotels moto-riders congregate hoping to earn some money acting as motorbike taxis or guides. It is becoming more common for visiting backpackers to hire a driver for a day or half day to visit some of the sites around the city. We did the same, being lucky to find two friendly riders, Sokha and Soen, who showed us some of the wonders of Battambang province. It is these two men that we taught Reiki I to.
A compressed History of Cambodia
To understand how Cambodia came to be this dusty, impoverished, friendly but frightening place, we sought out some books to learn its history and we spoke to Cambodians as well as some ex-pats living in Phnom Penh. Cambodia's recent history is so complex and so full of contradictions that it is almost impossible to understand the present day extremes without some knowledge of the past. For instance, how can a people who seem so friendly and supportive of foreigners be capable of such levels of systemic corruption that ensure children will die in hospitals if families cannot pay the required bribes to hospital staff? It is embarrassing to think of how little we knew about the history of our own region before we arrived!
Cambodia really flourished (if you call building lots of big temples and thrashing your neighbours in countless wars 'flourishing') during the Angkor period from the 8th to 12th centuries. This is when most of the incredible temples around Siam Reap were built – Angkor Wat included. Like all things, their domination of the region ended and the Khmer speaking lands broke up into smaller territories. With varying fluctuations of Thai and Burmese kingdoms to the west and Cham and Vietnamese kingdoms to the east, the next major event was the capture of Cambodia by the French in 1866. The French were ousted by the Japanese in 1942, the Japanese were defeated in 1945 allowing the French to return. Cambodia gained independence in 1954. While there was some initial military altercations, Cambodia slipped into a relatively peaceful period in the 1960s.
Meanwhile, to the east, Ho Chi Minh and the Viet Minh armies were fighting the French for independence. Even with strong US military support, the French were defeated. Despite the peace agreement signed in Geneva in 1954 that agreed to nationwide elections for 1956, the US backed South Vietnamese government refused to hold the elections and declared itself a republic. By 1959 resistance within South Vietnam had escalated to war with the north. The US supported the southern regime with advisors and equipment (even though the regime had filled 50% of the known human rights abuses in the world reported to Amnesty International for that period), but by 1965 US combat troops had entered the fray. The US was supported by Australian, New Zealand, South Korean, Philippine, Thai and even Taiwanese forces.
The Cambodian peace could not withstand such tumultuous events on its border and after a military coup in 1969 the ruler Prince Sihanouk fled to China and urged Cambodians to resist the military. If you think this is all confusing, try and work out what happened next! The military government of General Lonol was supported by Thailand, South Vietnam and the US. Prince Sihanouk's resistance included Chinese and Viet Cong troops. Somewhere in there the Khmer Rouge emerged and when Lonol's foreign supporters pulled out in 1973, the Khmer Rouge increased the pressure on the capital, eventually forcing a surrender. More about this later.
Battambang Again
Our two 'motos', Sokha and Soen, are both old enough to say they survived the Khmer Rouge. Sokha, 45, was a student when the Khmer Rouge took Phnom Penh. He was studying at University and the English he now speaks is from that time. He is now married with four children. This is his family. His brothers, sisters and parents, 11 in total, did not survive the 'killing fields'. After the defeat of the Khmer Rouge by Vietnamese troops, he returned to Phnom Penh to claim whatever of his former life he could. His apartment was occupied by Cambodian troops and after 6 months of waiting he realised that no-one from his family would be returning.
Soen was only a baby when the world turned upside down. He doesn't remember much, being too young. His older brother and his mother survived as well as some other relatives and have told him some of the things that occurred. His brother was near his father when Khmer Rouge soldiers shot him in a field.
It is difficult to fathom how such events could have taken place anywhere and how people could have survived them. It is even more astounding meeting people who have survived. Who else has similar stories, we wonder. Here, it seems, just about everyone has.
The Khmer Rouge
On 17 April 1975 the Khmer Rouge marched into Phnom Penh. Most Cambodians weren't particularly sure who the Khmer Rouge were – clad in their black pajama-like uniforms, rubber sandals and Mao caps – but many welcomed them into the capital. Rumours of brutality by the Khmer Rouge in the provinces were largely disbelieved in urban areas. It was hoped that a new government with more socialist leanings may improve conditions and freedoms in the country. Within hours the people of Phnom Penh were given the order to evacuate the city.
"The Americans are going to bombard the city," they were informed by the polite but unsmiling Khmer Rouge soldiers, "it is for your own safety, and only for three days."
"Phnom Penh became a ghost town," our friend and soon to be Reiki student told us.
Certainly the possibility of the US bombing the city was not far-fetched. Henry Kissinger and Richard Nixon had ordered the bombing of Cambodian territory as early as 1969 in an ill-conceived plan to allegedly destroy suspected Viet Minh bases in border areas. By the end of the Vietnam War (known as the "American War" in Vietnam) B-52 bombers had dropped more explosives on Cambodia and Laos than on Germany during the Second World War (actually, it could be more – I have lost the quote for that one!). Of course the United States government had not actually made any declaration of war with these countries, nor vice versa. The unprovoked and devastating bombing campaign was instrumental in giving the Khmer Rouge popular support from villagers affected by the bombing, as well as driving these guerrilla fighters deeper into Cambodia amongst a sea of refugees. What followed was an instant social restructure, where those from urban areas, 'New People', were forced into the countryside to live alongside villagers, 'Ancients', in an effort to abandon 'imperialist' ways and to adopt a better peasant-like lifestyle. All they knew was that the Khmer Rouge worked on behalf of 'Angkar' or the 'organisation', and that Angkar would take care of them. Most Cambodians were not aware that Pol Pot or any of his cronies existed. All they knew was that they had to do exactly what the local Khmer Rouge soldiers 'asked' them to do or they would disappear.
It appears that Pol Pot, influenced by hard-line communist ideology, wanted to remove the risk of opposition by suppressing the most likely candidates to organise any opposition. This meant completely emptying the cities, places where unrest was always likely to brew, and killing individuals who were unlikely to be successfully 're-educated'. This included, amongst others, Government ministers and officials, academics, business people, Buddhist lamas, teachers, students and even people who wore glasses! Money was abolished and cars and machinery left to rust – all shackles of an imperialist world.
Once the New People were set to work building new villages, fields, dams, irrigation projects, clearing forest, and growing rice, they soon realised that the new egalitarian society would not include them. When food became scarce, the New People were forced to work the same hours on less and less food. "We were only given [watery rice] porridge for lunch and dinner each day", Sokha told us. Thousands and thousands died from starvation. Being ill enough to go to hospital generally meant you were going to die there – hospital staff were young Khmer Rouge soldiers with little sympathy for the patients and even less knowledge about medicine.
While the New People died in their hundreds of thousands, the Ancients and the families of the Khmer Rouge, initially at least, had ample food supplies. It wasn't a case of a food shortage per se, as a deliberate policy to restrict food to part of the population. Sokha told us that the rice the died harvesting was exported to China. As one local leader told his audience at one of the many compulsory political meetings, 'Cambodia has seven million people – the revolution only needs one million'.
Reiki in Battambang
The incredible thing about western Cambodia is that up until 1998 many areas in Battambang province were still under threat from Khmer Rouge forces. At a popular local weekend picnic spot high on a hill overlooking the plains below, an artillery piece still sits amongst pre-Angkor period Hindu temples. The grease on its parts is still fresh. Local children play with the still functioning levers and mechanics of the weapon, taking turns at swivelling the guns around.
Parts of the countryside where we travelled had only been resettled as little as two years ago. The Khmer Rouge had been driven out of most of Cambodia in 1979 by the Vietnamese Army, but this incredibly cruel force still controlled large areas of land until very recently, thanks to the Chinese, Thai and US governments. In another bizarre twist, these governments secretly provided both financial and military support to the Khmer Rouge. For example, under American pressure US$12 million worth of food destined for rural Cambodians as part of the United Nations World Food Program was diverted to the Thai military to hand over to the Khmer Rouge instead.
Some of the sites we visited included a cave where up to 10, 000 people were killed. People were killed for the simplest of things. The mother of Aki Ra, the founder of the National Landmine Museum in Siam Reap, was taken to 'school' (i.e. to be executed) for warning an old man that he was about to spill his bowl of rice soup. At this cave people were bludgeoned to death and pushed into the cave 30m below, or simply pushed in alive. One of our guides, Soen, also said many people were tortured before they were killed. An adjacent cave contained hundreds of small bones – this was where many of the children where killed. As many of the Khmer Rouge soldiers were young, they had yet to develop any real understanding of compassion or mercy and so could be particularly cruel.
Having lost both his parents to the regime, Aki RA himself at the age of 5 was taken in by the Khmer Rouge and trained as one of their soldiers. [Aki RA (a Japanese name given to him by tourists and one he took a liking to) set up a Landmine Museum on his own. It is very impressive.] At age ten he was struggling to carry and use his first machine gun. In 1986 he was captured by the Vietnamese Army and given the choice of joining them or being killed. In 1992, at age 19, the United Nations offered him work as a mine-clearer, something he was very familiar with. On his first visit to the town of Siam Reap he had his first glimpses of the world outside a life of forest warfare. Paved roads, cars and concrete houses were all alien to him. It took him a month to get used to his new surroundings. Up until then, he thought the entire world was one of brutality, hardship, starvation and guns. There was no other world he could have conceived.
We also visited a dam created during the Khmer Rouge period. The dam wall, over 8km long, and over 9km of irrigation canals were all hand-dug by forced labour. It is estimated that over 10, 000 people died here as well. As Sokha, another of our guides, said – every day you thought maybe this would be the day that you would die. For some people, this release was something to look forward to.
Grateful for the kindness that Sokha and Soen gave to us during our stay in Battambang (including agreeing to a videotaped interview we requested), we decided to offer them a Reiki course as a thank you. Showing them up to our room after a dusty days ride was an experience in itself! We were staying at the recently refurbished Royal Hotel. Immaculately clean inside, with sparkling tiles, spacious rooms and a wide staircase. Most rooms come with a ceiling fan, attached bathroom, towels, soap and television all for the outrageous price of US$5.00 (we ditched the television and saved a dollar). Largely fitted out to accommodate the United Nations 'occupation' in the nineties, and following the French colonial influence, these hotels are impressive. To Sokha and Soen, never having passed the dustier and more worn front entrance, it came as a bit of a shock. Like a backpacker in a five star hotel, they shuffled around uncomfortably, trying not to touch anything (we were all so dusty that even brushing against something was likely to leave a light brown reminder!).
We reassured them and plonked them onto the beds, explained a bit about what Reiki is, and then offered them a short treatment. Convinced that we were truly weird, perhaps overly kind hearted but at least harmless, we all talked more about this strange Japanese thing. Sokha lifted up his shirt and showed us the circular marks caused by 'cupping' – moxibustion – explaining that his wife would burn small amounts of a specific herb under a small cup to create a vacuum that would suck the skin, allowing some kind of healing effect. Sokha says that with cupping, his headaches would disappear after about five minutes. He also told us that 'coining' is popular in Cambodia – a coin is used to scrape the surface of the skin. A fairly painful looking technique that leaves broad scratch marks on people's skin. They both told us about various traditional and natural medicines used by Cambodians to treat various ailments. Throughout our sojourns into the countryside, they often pointed out both medicinal and edible plants.
Kantha Bopha Children's Hospital
Many things left deep impressions on us in Cambodia. Perhaps one of the most positive was the Kantha Bopha Children's Hospital in Siam Reap. We had heard rumours of a place where you could donate blood and we thought that this would be a worthwhile thing to do. On our first journey between the town of Siam Reap and the Angkor temples, we noticed a sign advertising a free cello concert by "Beatocello" every Saturday night. We were fortunate to be in the area on a Saturday so scurried in after dark, dusty and weary from a long day at the temples, and listed to "Beatocello".
Beat Richner (alias "Beatocello") is a Swiss doctor who has successfully established three well-functioning children's hospitals that offer modern medical treatments. What makes this feat particularly remarkable is that apparently no other hospital in Cambodia can claim to be clean, supplied with proper analysis equipment, free of corruption and free of charge. Having worked in Cambodia prior to the Khmer Rouge take over, on a return visit in 1991 he was asked by King Norodom Sihanouk whether he would restore a children's hospital to the country. With what Dr Richner calls his many "strokes of luck", he was able to open up the first hospital in the capital, Phnom Penh, in September 1992. His strokes of luck are extraordinary and perhaps something we would be thanking Reiki for! For instance, on his first return flight to Zurich in 1991 he was talking to the man sitting next to him about the proposed hospital and how it would be possible to get the required building material into Cambodia.
Dr Richner told the man next to him that he knew that:
"…medical material was cheaper in Thailand than in Switzerland and that it was better to import everything to Cambodia through the Swiss firm Diethelm in Bangkok, a well-established firm which was surely still existent. My neighbour said dryly: I happen to be the director at Diethelm with its head office in Zurich. Before this I was in Bangkok for 15 years".
As we sat in the auditorium with perhaps thirty other tourists and locals we were treated to a top level cello performance as well as (the real reason for the concert) an inspirational talk on the hospital. The hospital runs purely on donations and also depends on tourists to donate blood. As the doctor who took our blood told us, virtually all blood donations come from tourists and the families of the sick children. Most Cambodians don't trust hospitals. Perhaps for good reason, as we learned from Dr Richner.
To ensure that the almost epidemic levels of corruption in the country did not affect this hospital, Dr Richner secretly planned to augment the staff's salaries. No-one knew until after they received their first pay packet. The idea is to pay them enough so that they would feel valued for good work and they wouldn't need to work two jobs nor steal medicines to sell on the streets to feed their families. This is very common in all other hospitals, including those funded or set up by overseas aid organisations.
Dr Richner is scathing at what he terms the "Apartheid of Who" (World Health Organisation) in international medicine. Apparently in Switzerland in 1995 a WHO representative justified the use of cheap and discredited drugs in less developed countries because "we can not afford Rolls Royce medical treatment in the Third World". The particular drug he was referring to is an antibioticum, chloramphenicol. Dr Richner claims that using this drug is misguided (he uses stronger words!) because, firstly, there is apparently a 100% resistance to the drug in Cambodia, secondly, in 65% of cases where it is prescribed, the patients have tuberculosis where it is useless and, thirdly, it has serious side-effects which lead to the drug being banned in developed nations in 1970!
Dr Richner has some convincing arguments as to why the international medical world has allowed a kind of separatist policy to emerge in aid to poor countries. In the case of Cambodia, WHO provided manuals for visiting doctors which do not include tuberculosis. Apparently it is difficult to detect in a child and without proper facilities, practically impossible. While Dr Richner agues that up to 70% of malnutrition cases are caused by tuberculosis, internationally funded hospitals and clinics for children do not have any equipment to be able to identify this disease. Therefore children are misdiagnosed and treated for a variety of other diseases that do not address the problem. Those that are lucky manage to get to Kantha Bopha where Dr Richner and his staff insisted in installing equipment that could test for all these things (eg an X-ray machine). Apparently many international medical people have fought running battles with Dr Richner for "raising the benchmark".
As Dr Richner says, if international organisations are funding and establishing hospitals and clinics, why should they be assuming that people of these poorer countries only have "simple illnesses" and why should they believe they do not deserve the same level of treatment as they too would expect.
"It is the right of every child to get the best possible treatment. Everything else is a violation of human rights", he declares.
It would be easy for us to just shrug and say – what about the cost??!! The fact that these hospitals exist, are functioning well and have broad popular support in Cambodia demonstrates that it is not merely a question of money. It is a question of the effective use of available funding and the enthusiasm and energy of those in a position to make it work. It certainly requires a wise and adaptable person to be able to get passed stuffy bureaucrats [and we should know, we work for a government department!] and those with perhaps less vision. One example of this is on one of Dr Richner's regular visits to Switzerland to raise funds. Not allowed to give details of the bank account number of the hospital on television (for donations), he resorted to writing a song in English that incorporated the bank account number in the lyrics. In Switzerland, every language must be subtitled by law into the other national languages. Therefore, while he played cello and sang, he got the message across.
Here is the number, no tricks required! All overseas, so we aren't sure which one is best. Otherwise there is a website which may be useful: http://www.beat-richner.ch
Foundation children's Hospital Kantha Bopha
Dr med Beat Richner
– UBS Union Bank of Switzerland, CH-8032 Zurich Seefeld
Konto-Nr. 838570.01Q
– Banque Indosuez, 96, Boulevard Hausmann, F-75008 Paris
Konto Nr. 180 106 302
– Dresdner Bank AG Postfach 110 60 64, D-70049 Stuttgart
Konto NR 9 156 100 00, BLZ 600 800 00
Reiki in Battambang
In 1975 the Khmer Rouge, made all western medicines illegal. The people therefore had to rely on traditional healing techniques. While many traditional medicines are effective and the knowledge of them has helped impoverished Cambodians through these last decades, there is no doubt that many people who have died with simple illnesses could have been treated easily with some of the safer and more reputable western drugs. Sokha, like many others, had malaria and was very sick. He drank what he described as two litres of a horrible herbal concoction every day for six weeks, which not only cured him of malaria, he now no longer attracts any mosquitoes at all!
Explaining the attunement process was a challenge, but their trust in us was astounding (as well, I'm sure, as their politeness to do what these crazy foreigners asked) and we managed to fit them in before and after trips. We were conscious of the fact that time spent with us was time either not earning money or not being with their families, so we tended to hurry to keep their attention and not hold them up. They were up with the dawn, looking to find people to taxi, they generally rode all day when they had foreigners to guide, and they remained outside the hotels until 7-8pm hoping to secure a job for the next day. No sick leave, no weekend breaks, no holiday pay and no superannuation – something tourists can easily forget when pushing people for a cheaper deal.
Once we had Sokha and Soen give and receive treatments themselves, learning the hand positions, it seemed they finally understood what was happening. Being from a culture that has not forgotten that the visible world and its beings are not the only things in existence, they were not fazed by the idea of Reiki. What probably confused them most was that there were two youngish Australians, who didn't eat meat and who claimed to be Buddhist from a Christian country, in their country teaching a Japanese healing technique using nothing but their hands!
We sincerely hope that they continue to give themselves and others Reiki treatments.
That ends our rather long and involved discussion on Cambodia. We thoroughly enjoyed our visit and were very grateful for the kindness and friendliness offered to us by the Cambodians. Thank you to those who managed to read to the end!
Further Reading
Beat Richner, 1996, Kantha Bopha: A Children's doctor in Cambodia. [Dr Richner's own words describing how he set up the hospital and many interesting insights into international medicine.]
Aki Ra, 2000, My Story. [a short autobiography by the founder of the National Landmine Museum, Siam Reap].
Barbara Victor, 1998, The Lady. Burma's Aung San Suu Kyi. [An excellent summary of Burma's recent history and a mini-biography on the Nobel Peace Prize laureate].
Pin Yathay, 1987, Stay Alive, My Son. [Autobiography of a man from Phnom Penh who escaped from Cambodia to Thailand during the Khmer Rouge Period. 17 members of his family died].
John Pilger, 1997, Hidden Agendas. [An incredibly insightful look at what's not printed in the media and why. Individual chapters cover many of the countries in South East Asia, as well as the UK and Australia].