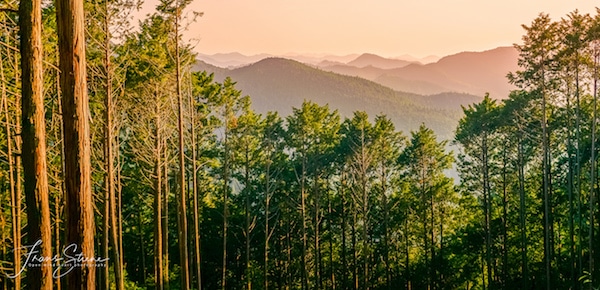 , wie sie erwacht – dass dies Entspannung bedeutet, Stress abbaut und mit Bescheidenheit und Demut verbindet. Ich habe diese ワbu Freund, der vor vielen Jahren ging , zu ehren und widme dies seiner Erinnerung.
Heute morgen sa゚ ich mit meinem Kaffee an Deck um zuzuhen und zu schauen. Ein leichter Nebel umarmte den Wald, der Rest eines n臘htlichen Regens. Der Strom unterhalb gurgelte frlich im frischen Lauf. Ich konnte Myriaden von Vogelstimmen hen in ihrem morgendlichen Geschnatter, weit weg und nahebei. Ich schloss meine Augen, um mich besser auf die, die weiter weg waren zu konzentrieren. Ich wurde gewahr, dass sich meine sinnliche Wahrnehmung nicht entscheidend vermindert hatte, als ich den visuellen Eindruck schloss, aber die Wahrnehmung der Sinne, die ich nicht so oft gebrauche, wurde verst舐kt. Ja, die Vogelstimmen verteidigten immer noch ihre Nester oder riefen nach Anderen um zu sehen, ob die es auch durch die Nacht geschafft hatten, aber zu meiner Wurzel Symbiose der Wurzeln, ihre Verbindung mit der Erde und die frische, reichhaltige Feuchtigkeit, die sie liebkoste.
Ich verband mich wieder mit dem Wasser, und ich fühlte, hör und sah, wie es sich seinen Weg zum Fluss bahnte, wie die Schwerkraft in ihrer Unaufhörlichkeit es leicht zum Ozean zog. Sonnenstrahlen sprenkelten durch den Nebel und begannen der leichten Brise zu helfen, die Schwaden aufzulösen. Mein spirituelles Training in den 5 Elementen hielt meinen Geist, dieses Mal verschmelzend mit meinem wissenschaftlichen Training, das Zusammenspiel von Wasser, Luft, Feuer und Erde bestaunend, und plötzlich nahm ich den dreidimensionalen Raum wahr, den ich ausfüllte. Ich begann darüber nachzudenken, welche Arten von Kräften die verschiedenen Kompomenten bewegten… natürlich Schwerkraft, die den Anstoss für die Bewegung des Wassers gibt, aber warte, die Luft bewegte auch den Nebel, was es wiederum erlaubte, dass der Nebel auf der Oberfläche der Blätter kondensierte, und als sich die Blätter im Wind bewegten, fielen die Tröpfchen auf den Boden, um sich der Bewegung zum Fluss hin anzuschließen, der Millionen Teilchen Erde mit sich trug. Das Feuer der Sonne half, die Blätter zu trocknen bis zu ihren wächsernen, sonnenabsorbierenden Bestandteilen, die wieder beginnen, für den neuen Tag Zucker zu produzieren aus derselben Luft… Frühstück. Aber warte, das Sonnenlicht wärmt auch die Erde, zieht die Luft aufwärts, die Wärme und die Feuchtigkeit mit sich nehmend, eine kühlere Brise durch die Bäume ziehend um die wärmere Luft, die aus dem baumlosen städtischen Tal weiter unten aufsteigt, zu ersetzen und sie dabei abzukühlen. So majestätisch. Ich fühlte die gnädige, mitfühlende Natur des Universums, nährend und fürsorglich zu allen Bewohnern, und wunderte mich, wie Menschen sich in so einem Raum solcher Nähe so selbst isolieren können, dass sie sich einsam und depressiv fühlen . Wie kommt das, wo doch die Natur für sie sorgt und Willen und Kraft wiederherstellt, um das Leben der darin Wohnenden zu ermöglichen.
Dann rief ich mir ins Gedächtnis, dass ich irgendwo gehört hatte, dass wir Menschen nur einen kleinen Bruchteil unseres Geistigen Potentials auf täglicher Basis nutzen um unseren Aktivitäten nachzugehen. Ich denke, dass dies bedeutet, Worte, die von anderen gesprochen oder geschrieben werden, zu interpretieren und sie zu unserer selbst festgelegten Wirklichkeit und unserem Verständnis in Beziehung zu setzen. Aber was, wenn… was, wenn der ungenutzte Anteil unseres Nervennetzwerks in kontinuierlicher Beziehung mit allen anderen Teilen des Universums genutzt wird, und Universum sein ist grundsätzlich mitfühlend im Grundsatz. Ist es dann unsere Absicht, die, die um uns herum sind, zu unterstützen, ohne die Absicht, offensichtlich mitfühlend zu sein? Sind wir zusammen mit all den anderen Tieren Reflektoren der Anteilnahme des Universums? Es wird gesagt, dass andere Species nicht die Fähigkeit haben, über ihre eigene Existenz zu reflektieren, aber dies scheint quälend vermenschlicht. Haben sie nicht auch ausgeprägte geistige Fähigkeiten? Vielleicht sind sie mehr darauf fokussiert, mit den Elementen verbunden zu sein, als sich selbst zu isolieren. Nachts reflektiert der Mond das Sonnenlicht um die Dunkelheit zu erleuchten. Dem ähnelnd, ist vielleicht die menschliche Natur und Sinn, den Teilen der Natur Mitgefühl zu zeigen, wo es nötig ist. Ich hoffe das.
Based in Holland, Frans Stiene teaches in North America, Europe, UK, Australia and Asia.
Frans is also the author of Reiki Insights, it is the continuation of his previous book The Inner Heart of Reiki, taking your personal practice and understanding of the system of Reiki yet another step deeper.