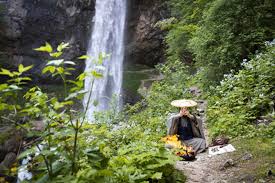 Within the Japanese system of Reiki we talk alot about Earth and Heaven Ki and what lies between. These polar energies are represented in the Japanese practice of Onmyodo as what we commonly call yin and yang. 
Watch this beautiful Onmyodo dance performed by Nomura Mansai. 
If you'd like to find out more about links between Onmyodo and the system of Reiki check out our article Distance Healing Symbol 
Bronwen and Frans Stiene are the co-founders of the International House of Reiki and co-authors of The Reiki Sourcebook, The Japanese Art of Reiki, Your Reiki Treatment, The A-Z of Reiki Pocketbook and the Reiki Techniques Card Deck. Bronwen and Frans teach in the USA, Europe and Australia. Visit the Courses page to find a course near you.