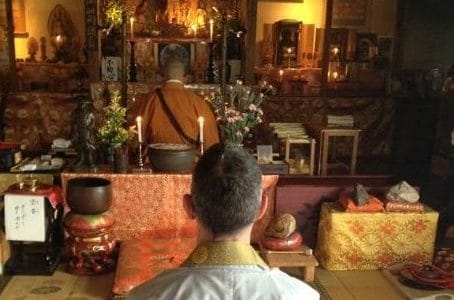 As some of you know I just spent a week in Japan deepening my own personal spiritual practice with a Japanese Shingon priest, Takeda Hakusai *Ajari, who was once a Tendai monk as a disciple of the great **Sakai Dai Ajari, learning about Shinto, Shugendo, Tendai and Shingon.
Wednesday
What can I say about the training? I could use many words, but at this moment, only 3 days into the training, I would sum it up like this:  
many things changing…practice changing…insights changing…
Finally, I have a few moments of time to write some thoughts down about this intensive training. It started Monday with a 13 hour flight from Sydney to Cairns to Japan, landing at 7pm. That same evening I met my teacher at a hotel close to the airport where I went into the onsen, a hot Japanese bath, to refresh myself, then to dinner, and then straight away into a teaching pattern until about 11pm.
I awoke at 4.30am to get in a little time in the wonderful onsen before heading off early for a day in the mountains for waterfall practice explanations.
First, we went to a specific shugendo temple in the mountains near Osaka where my teacher practiced waterfall takigyo. Then off to Kurama Yama for a climb up the mountain. I've been here twice before but this time was certainly unique. During the climb I was told to practice the mantra which I had been taught the previous night, and as it was all new to me I found it really difficult to do – walking and trying to remember a long mantra is far more difficult than it sounds. My teacher makes me sit on the many benches during our climb to hear if I am reciting the mantra correctly. Not correct? Then no lunch, keep walking! And off to the next bench, until I perform it exactly how he wants me to chant it. Starving!
That night we stay in a small hotel at the foot of Mt Hiei (the famous Tendai mountain), and after dinner we drive around to have a look at some well known temples of prominent Tendai Buddhist teachers. I am learning so much about the Japanese culture, philosophy, religion and Ways – this journey is so much more than I could have hoped for. Back at the hotel we start with more practice and teaching. My teacher seems to only need about 3 hours sleep a night, but luckily for me he lets me sleep a little longer. After a long drive, during which we discuss Usui-san's teachings and more mantra practice, we arrive at the temple in which I am to stay for the rest of the teachings. Even though we have just driven through japanese traffic for almost four hours, the Ajari starts to teach straight away; there is no stopping him 🙂 After dinner I am sent to my room to review the practice and teachings, he knocks on the door at around 9.30 and sits down, waiting for me to do the practices for him in order to correct any mistakes I am making. I finally get to lie down on my mat around 11pm.
Thursday
I wake up after a strange dream at 3.30am and decide to review my practices (only to discover that it was actually 2.30am – my phone alarm was still on Sydney time!). At 6am I learn a water cleansing ritual and perform this with some cold buckets of water. Brrr. Then off to the main hall for the morning ceremony, followed by a review of my practice in which the Ajari corrects my mistakes again – and I am actually very happy that he takes the time to help me with this as I want to do it as correctly as possible. He is strict, yet very gentle and he slowly nudges me, gently helping me to push my own boundaries. Finally we have breakfast, and – you guessed it – after breakfast we go straight back into it again. This time focussing on Mahayana Buddhist teachings. Interestingly, I am starting to see links to Usui's teachings through the Ajari's teachings, some of which he points out himself. One time he says "Frans, this is like the Reiki precepts" or "This is like Usui-san's enlightenment".
We continue with this training till about 1pm when we have lunch. All the meals at the temple are based on these staples: rice, pickles, vegetables, miso, noodles- lovely fresh, healthy food. I am feeling great.
After lunch there are more Mahayana teachings. During the day my teacher sometimes stops and says, "Frans, show your practice". And I think, "Oops, how did it go again?" as my thoughts were so busy with understanding the other teachings. Eventually I get to take a walk outside at around 6pm for 30 minutes. When I get back, dinner is ready. Then I have just 30 minutes to have a shower, after which he will review the teachings and practices again, by now it is 9.30pm. What a day! The Ajari still has to visit another temple tonight so I am advised to go to my room and review the teachings and practices by myself.
I am told to be ready by 6am. By now it is 11pm so I had better get some practice in before I go to sleep…Tomorrow is a brand new day and I am really excited by everything I am learning.
Friday
This morning was intense. I head off to the main temple hall at around 6am for the daily morning ceremony. After breakfast, Mahayana teachings, and by 11 am I am chanting again. If I make a mistake my teacher stops me and I have to start from the beginning again until he is completely satisfied. This turned out to take one and a half hours of solid chanting practice! It feels like my whole body is shaking inside, and by the time lunch comes around I certainly need it. There is a small break after lunch and then we start again with chanting, followed by Mahayana teachings. Before dinner I have some time to walk around and get some fresh air. Dinner is noodles which we dip into a miso soup and slurp up, there are also some nice rice balls and a couple of corn fritters with a refreshing cup of green tea. I am satisfied and full. The Ajari shows me an addition to one of the practices and then I am free for the evening, as he is traveling to another local temple again tonight. I perform some of the practices in my room again so that I will remember them. It is unbelievably hot here, unlike home where it is winter, and after a while I feel the sweat dripping off my body. I take a nice refreshing shower and write some more. Tomorrow is another day…
Saturday
4.30am and I am wide awake, ready to start my practice. I shower, drink green tea and practice by myself. Before the daily morning ceremony, we do a water practice with buckets of cold water, which I find very clearing and empowering. After breakfast I begin to learn sutra copying, which is a very meditative practice. In the afternoon, we travel to an old temple, established around 750 AD. Here I perform some of the practices I have been taught. This evening I did a hands-on healing session on the Ajari. After about 40 minutes of the session I felt I was finished, so I sneaked out of the main temple hall where we did the session, and about 45 minutes later my teacher comes to find me, asking, "How long did you do that session for?" I answered, "40 minutes". He looks at the clock and says, "Well I know it is now almost an hour and a half later since you started the session, and even though you left the hall I felt you still sitting there with me, holding the space until I got up."
A couple of days ago I proposed to perform a reiju/attunement on my teacher. I found out that he had recently experienced a reiju/attunement with another Japanese Reiki teacher in Kyoto. In fact, before Takeda Ajari accepted my joining him for this spiritual practice in Japan, he had never had any interest in the system of Reiki at all. It was only after deciding to accept me as a student of Mahayana Buddhism for this retreat that he decided to find out what Reiki was. He went to Kyoto and received a reiju/attunement from a Japanese Reiki teacher who insisted he is directly transmitting the most traditional form of Reiki in Japan. Unfortunately, Takeda Ajari didn't like it as he felt it was just some kind of tapping and movement with the hands. He felt that the reiju/attunement that he received there was devoid of a 'great mind'.
Sunday
This morning at 5.30am I sneaked into the main temple hall where there is a wonderful statue of Fudo Myo, plus many other statues as well, and did my practice. It is so empowering to do your practice in such a sacred space. At 7am we performed the morning ceremony and now I am taking it easy as my teacher and his student are preparing the shrine for a Goma (fire) ritual. There will be just the three of us and it is said to take about an hour and a half. It is 10 am and the Goma ritual begins. First we recite certain prayers and then the Ajari starts performing the Goma; flames are rising higher and it is getting hot in the room, not just from the fire but also from all the inner Goma/Fire which is being stirred up by this ritual. At the end the Ajari blesses some objects which I will take home to Australia.
This was a moving experience, it felt as if I was watching an ancient ritual being performed that I could not only see, but that I could also feel deep inside. After the Goma we decided to take it easy (can you believe that :-)) and go to a local castle and museum, have some lunch and get some fresh air. When we get back to the Temple, the Ajari wants to review all the practices we have done in the last week to ensure that I practice them correctly at home. After reviewing the practices, he performed another ritual for/on me which completely blew my mind – that is all I can say!
Tuesday
It is 2 days later, and I am waiting for my plane at Kansai Airport. I am STILL feeling the effects of Sunday's ritual. Somehow I feel this is going to have a long lasting effect on me. Not only on my practice but also on how I lead my life. I certainly hope to go back soon for some more training :-). Before my flight back to Sydney I had another day and a half in which I visited some interesting temples, went again to Mt Hiei and meditated at my favorite temple, Shoren In, where there is a very quiet garden that is beautiful to meditate in; what a place to end my journey.
* Ajari means eminent monk of the Shingon or Tendai sect (the title I call my teacher)
** Here is some more info about Sakai Dai Ajari
http://www.youtube.com/watch?v=S06oMxdt40A
http://www.sakai-yusai.net/
COME AND JOIN FRANS AT A REIKI RETREAT IN EITHER THE USA, THE UK, AUSTRALIA OR BALI.
Based in Holland, Frans Stiene teaches in North America, Europe, UK, Australia and Asia.
Frans is also the author of Reiki Insights, it is the continuation of his previous book The Inner Heart of Reiki, taking your personal practice and understanding of the system of Reiki yet another step deeper.