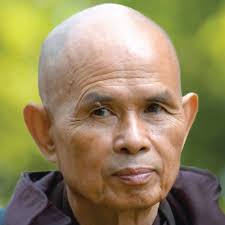 Moving beyond the idea of 'environment' and falling back in love with Mother Earth.
Zen master Thich Nhat Hanh explains why mindfulness rather than economics is needed to protect nature and how a spiritual revolution is needed if civilization is to avoid being destroyed by climate change.
So, Reiki practitioners, get to it and continue that spiritual revolution. If need be, refresh your minds on the 5 elements of the system of Reiki and what you can do for yourself and the world.
Filmed on the 22nd of December 2011, in Plum Village, France.
Thich Nhat Hanh interview with Jo Confino, an executive editor of the Guardian from Plum Village Online Monastery.
Bronwen and Frans Stiene are the co-founders of the International House of Reiki and co-authors of The Reiki Sourcebook, The Japanese Art of Reiki, Your Reiki Treatment, The A-Z of Reiki Pocketbook and the Reiki Techniques Card Deck. Bronwen and Frans teach in the USA, Europe and Australia. Visit the Courses page to find a course near you.