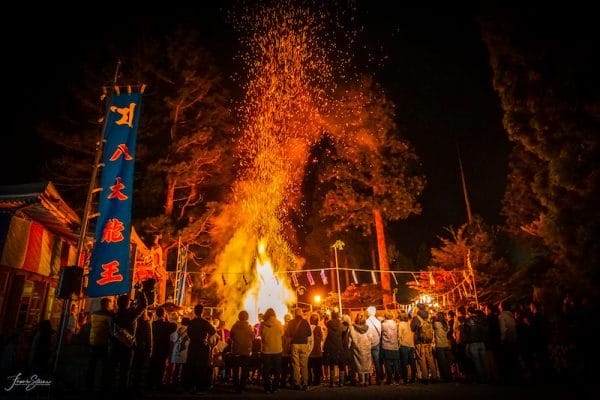 EVor vielen Jahren erzählte mir ein Freund, Joe, eine Geschichte der amerikanischen Natives über jemanden, der ein Feuer entfacht. Das Feuer konnte von überall gesehen werden, weil es auf einem Berggipfel war. Dieser Mensch hatte das Feuer entfacht, damit andere Menschen sich daran wärmen konnten, und ihr Essen darauf kochen konnten. Viele Menschen kamen, um sich zu diesem Menschen auf dem Berg dazu zu gesellen, so dass sie sich an den Händen halten konnten, um das Feuer zu genießen , um das Leben zu genießen.
Aber manche Menschen wollten das Feuer mit zurück zu ihrem eigenen Platz nehmen. Sie wollten, dass die Menschen zu einem Feuer auf ihrem Berggipfel kamen für Essen und Wärme, anstatt das Feuer einfach da zu genießen, wo es war. Natürlich war ein Umzug wie dieser schwierig zu bewerkstelligen.
Weil sie das Feuer nicht mitnehmen konnten, wurden manche Menschen eifersüchtig, und dachten:" Nun, wenn ich das Feuer nicht haben kann und nicht bei diesem Feuer hier sein will, dann ist die einzige Option, die ich habe, es zu zerstören."
Ich mochte diese Geschichte wirklich, die Joe mir vor vielen Jahren erzählte.
Wir können dies in unserer heutigen Welt auch oft sehen. Wenn jemand erfolgreich ist , und andere wollen genauso erfolgreich sein, aber herausfinden, dass sie irgendwie anscheinend nicht dorthin kommen können, würden sie lieber das Licht dieser Person zerstören, anstatt sich zu dieser Person in ihrem Licht dazuzugesellen, so wie die Menschen in der Geschichte mit dem Feuer.
Aber wäre es nicht besser, sich zusammen bei dem Licht an der Hand zu halten, bei dem Feuer? Warum versuchen, ein gutes Feuer zu zerstören; warum eifersüchtig sein? Auch wenn manche Menschen das Feuer nicht mögen, sie können es doch so lassen, wie es ist, und versuchen, ihr eigenes Feuer zu entfachen. Je mehr schöne Feuer brennen, desto mehr können wir den Himmel mit Liebe und Freundlichkeit erhellen. Aber wenn wir ein Feuer wegen Eifersucht zerstören, und wir der einzige sein wollen, der ein Feuer hat, dann sind wir nicht nur sehr beschränkt, wir schränken auch die Menge an Licht ein, die jeder vielleicht sehen könnte.
Jedes Feuer ist auch unterschiedlich, und das ist auch gut so; lass es unterschiedlich sein ! Hüte dein eigenes Feuer, anstatt zu versuchen, das eines Anderen zu zerstören. Je mehr du dein eigenes Feuer hütest, desto gesünder und glücklicher wird es sein, aber wenn du versuchst, jemand Anderes Feuer zu zerstören, vergisst du, dich auf den eigenes Feuer zu fokussieren. Und dein Feuer könnte erlöschen, was dir wiederum Kummer, Ärger und Sorge bereiten wird.
So hole einmal tief Luft, und anstatt andere Feuer auszupusten, puste auf dein eigenes Feuer, damit es gut brennt und hell leuchtet.
Based in Holland, Frans Stiene teaches in North America, Europe, UK, Australia and Asia.
Frans is also the author of Reiki Insights, it is the continuation of his previous book The Inner Heart of Reiki, taking your personal practice and understanding of the system of Reiki yet another step deeper.