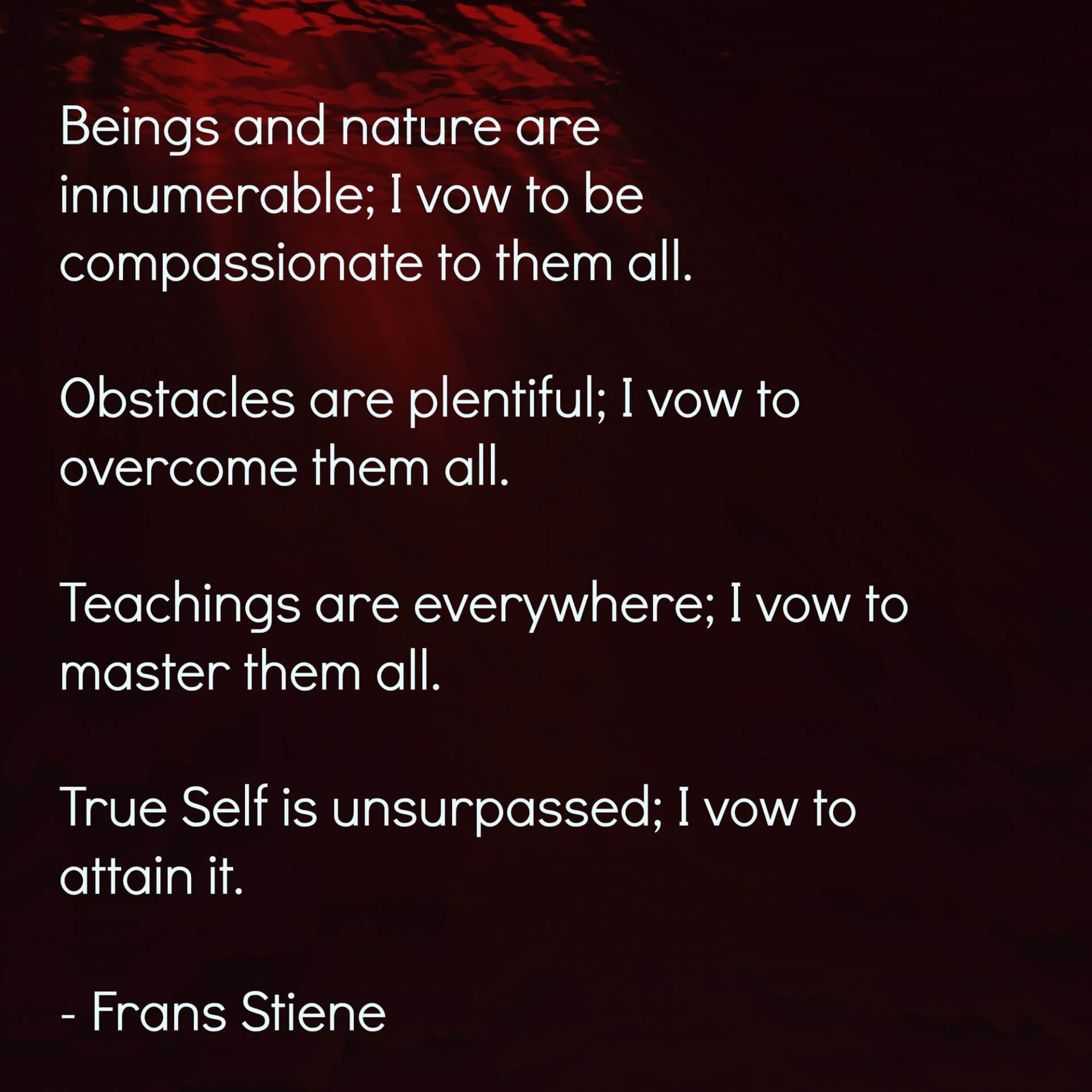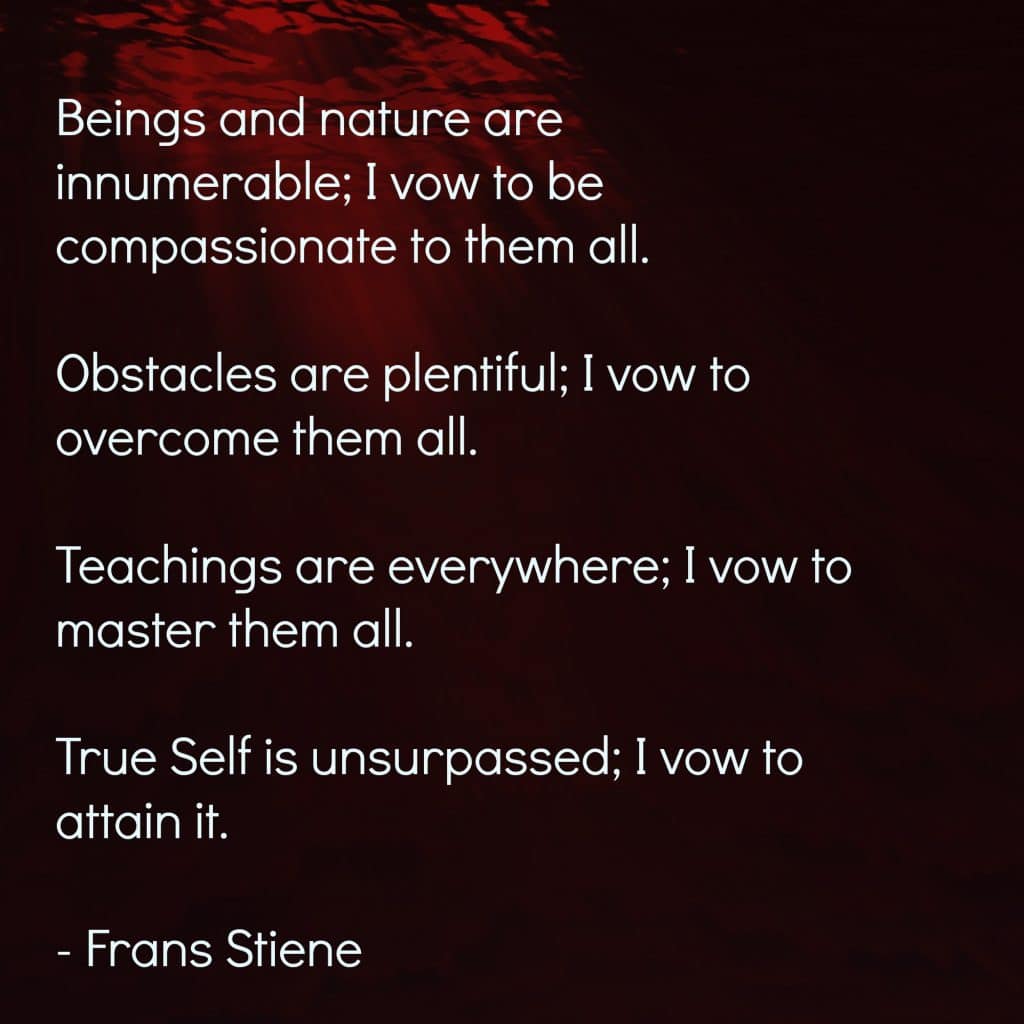 Vertaald door Ad Seelt
Wees niet boos
Wees niet bezorgd
Wees dankbaar
Oefen ijverig
Toon compassie aan jezelf en anderen
Binnen het Japanse Boeddhisme zijn er drie hoofdprincipes, die richting geven aan alle andere principes die je kunt vinden in het Japanse Boeddhisme. We kunnen zien dat Mikao Usui, de grondlegger van het systeem van Reiki, zijn vijf principes op deze drie hoofdprincipes gebaseerd heeft.
Laten we onderzoeken hoe de principes binnen het systeem van Reiki onder deze drie hoofdprincipes van Japans Boeddhisme.
1 – sho ritsu kai – stop slechte daden te doen
Binnen Usui's principes, zijn de "slechte daden" die moeten stoppen, boos en bezorgd zijn. Het is simpel maar toch zó moeilijk te doen omdat we zó vastraken al in onze overtuigingen dat we het erg moeilijk kunnen vinden om onze angst en bezorgdheid te verminderen.
2 – sho jen bo kai – stop slechte acties
Usui's principes tonen ons vier stappen gerelateerd aan het doen van goede acties. De eerste is; de goede acties die we ondernemen waardoor anderen niet boos of bezorgd raken. We kunnen vaak denken dat de principes alleen naar ons eigen niet boos en bezorgd raken wijzen, maar met het uitvoeren van de gezonde acties, helpen we ook anderen niet boos of bezorgd te raken. De tweede stap is dankbaar zijn in onze levens. In de goede actie; dankbaar zijn, houden we op slechte acties te doen; dankbaarheid helpt ons dingen te accepteren zoals ze zijn en op te houden boos en bezorgd te zijn. Dit kan natuurlijk alleen als we ijverig oefenen, hetgeen de derde stap is. En de vierde stap is de actie; compassie te tonen aan onszelf.
3 – sho shu jo kai – de actie van anderen helpen
Anderen helpen werkt door compassie te tonen aan anderen. Maar wat betekent compassie tonen aan anderen eigenlijk, wat betekent anderen helpen eigenlijk? We kunnen zeggen dat het inhoudt het oude dametje te helpen met haar boodschappentas, of iemand een handoplegging aan te bieden. Maar dat is het basis niveau van compassie tonen.
Een dieper niveau van compassie tonen is de actie van iemand helpen hun eigen Ware Zelf te herinneren. Als we anderen helpen hun eigen Ware Zelf te herinneren, zullen ze ophouden slechte acties te doen, zullen ze goede acties gaan doen en wéér anderen helpen hún Ware Zelf te gaan herinneren. Nu zal het rimpeleffect van de drie acties zich over de hele wereld verspreiden.
Hoewel, anderen helpen, komt binnen zowel de Reiki principes als de Boeddhistische principes als laatste omdat als we anderen helpen en we nog steeds zelf veel boosheid en bezorgdheid in onszelf houden, helpen we anderen echt helemaal niet.
Omdat hij zelf Boeddhistisch beoefenaar is, is het niet verbazend dat Mikao Usui zijn principes hier op baseerde. Net zoals elk principe binnen elk systeem diep gerelateerd is aan de anderen, zijn de drie principes en de vijf principes ook aan elkaar gerelateerd. Simpel maar toch complex. Helder maar toch meerlagig.
Dus hier kun je zien dat er veel dingen te ontdekken zijn aan Mikao Usui's lessen. En volgend op deze drie acties – stop slecht te doen; doe goed; help anderen – beginnen we het systeem van Reiki meer en meer te belichamen in ons dagelijks leven. Dit zal op zijn beurt leiden tot een meer compassievolle wereld.
Based in Holland, Frans Stiene teaches in North America, Europe, UK, Australia and Asia.
Frans is also the author of Reiki Insights, it is the continuation of his previous book The Inner Heart of Reiki, taking your personal practice and understanding of the system of Reiki yet another step deeper.