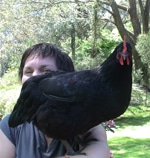 Last Saturday one of our chooks got very sick. She had this horrible wheeze which sounded like a serious respiratory problem. Her tail was no longer perky but hanging low, and she was miserable.

We'd raised Sheila, an Australorp chicken, from a 10 day old baby chick. We were very concerned and couldn't bear the thought of losing her, especially as, at 8 months, she is still a very young chook with a long life ahead of her!
 
Frans gave her Reiki while I set up in an invalid cage on the lounge room floor, near the fireplace… it is still a little cold here in the mountains.
We rang the veterinary clinic who, after asking around for a vet who knew something about chooks, set aside some antibiotics for us.
Over the next couple of days Sheila trundled around in her cage, chatted with the dogs and the rabbits, and gobbled up copious bunches of broccoli – her favourite. All the while wheezing. Eventually the wheeze lessened, although it was still definitely there. I rang the vets again although they could tell me nothing that would help at this point. We were all very concerned.
Sheila's breathing difficulties remained obvious until Friday night (almost 7 days later) when they suddenly worsened. Sheila sounded like she couldn't breathe at all and was making desperate sounds. Frans and I rushed to her side and instinctively held our hands out towards her to let the Reiki flow. We could do nothing else but crouch down near here listening to her horrible strangled sounds allowing the energy to do whatever it needed. I thought to myself, don't force it – be open to allow Sheila to take whatever it is that she needs at this exact moment in time.
After a minuter or two, Sheila suddenly let out an enormous squawk that frightened the whole house into stillness. Sadness crept into my thoughts as I wondered if this was her last death call. Sheila stood perfectly still, not blinking, perhaps not even breathing. We, too, held ourselves like statues, waiting.
After 30 seconds of being rooted to the spot, transfixed, she shook her head and warily looked around as if coming out of a deep trance. Sheila then let out a cluck and started picking at the ground to look for goodies. Her wheeze was gone.
The next day she joined her brothers and sisters outside and has since made a point of trying to get back into the house for yummy snacks while attempting to go on 'walkies' with the dogs down the road. Sheila will never be the same again!
Here's a photo of Sheila taking her rightful place on my arm, where every spoiled chook prefers to be.
Bronwen and Frans Stiene are the co-founders of the International House of Reiki and co-authors of The Reiki Sourcebook, The Japanese Art of Reiki, Your Reiki Treatment, The A-Z of Reiki Pocketbook and the Reiki Techniques Card Deck. Bronwen and Frans teach in the USA, Europe and Australia. Visit the Courses page to find a course near you.