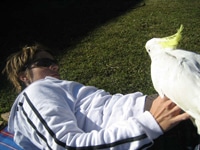 Donna Philips is one of the 5 winners of our Animal Reiki Stories competition and has won herself a copy of the Animal Reiki Handbook for telling us about how Reiki helped her rocky relationship with Rocky the cockatoo…
ps – Everyone who entered the competition also gets to choose one of 1/2 hour Reiki meditations from our online Reiki Meditations!
The weekend that I learnt Reiki 1 at Newtown (May 12 and 13 2007) I left on the Sunday feeling relaxed but still skeptical about Reiki.
I went from the Reiki course to my partners parents home to pick her up to go home.
My partner Irene's parents have a cockatoo that lives in the house with them. For the previous 7 or more years that I had been coming to the house, Rocky (the cockatoo) would never come to me, he would only let Irene touch him and kiss him and no matter how quiet I was or held out his favourite snacks to him, he would only come within an arms length and then run away.
On the Sunday night after the course, I stopped by to pick up Irene and Rocky was on his little tree branch in the garage and was looking up at me differently.
I held out my hands from a distance and asked him if he would like some Reiki and he put his crest up at me, tilted his head and made a little noise like "huh?" (which was his usual little noise..nothing new except he seemed very interested in me).
I moved closer and he leant towards me from his perch and I kept saying "you want some reiki rocky?" and I got so close to him that I started to tremble with excitement!
He lifted his wings up and I moved my hands up to his body, really slowly, and as my hands got close to his body he used his beak to grab my sleeve and pull my hands in to hold his body and put his wings over my hands.
Then he looked up at me and reached his beak to my face. I lowered my face down and he snuggled under my chin and I stayed there until my back was hurting from bending over him…afraid to move in case he freaked out and realised that it wasn't Irene!!!
He has let me touch him ever since this day and he sits on me and comes to me when I call him…in fact I think Irene and I are the only ones he will come to these days!
After that, I never doubted Reiki again…the next day at work reinforced the healing power…but that's another story!!!