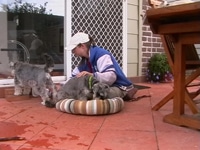 Rebecca Sykes is one of the 5 winners of our Animal Reiki Stories competition and has won herself a copy of the Animal Reiki Handbook for this lovely story about two miniature schnauzers who enjoyed telling her where they needed Reiki for their aches and pains… 
ps – Everyone who entered the competition also gets to choose one of 1/2 hour Reiki meditations from our online Reiki Meditations!
After I had completed my Shoden level Reiki in 2004 I went to a friends house to practise my newly found skills on Marie. As I was leaving, Lucy her cat came to say goodbye. I pat her back said to Marie, "I wonder how she would go with Reiki", so I concentrated on it and in a moment Lucy lay stretching her forelegs out in front of herself with her chin flat on the ground. My friend exclaimed in shock, "What's she doing Bec? She's never done that before!". Marie sounded worried so I gently explained to her that Lucy was accepting the energy, being a novice myself I wasn't adept at explaining Reiki energy, so that was my best answer. Lucy's response amazed me more than Marie and it was this point that I realised, because of my own passion and care for animals, it is animals that I need to give Reiki to professionally.
Shortly after this my own health went down hill and I became preoccupied with getting myself better, so my time with animals fell by the wayside until early last year. I met a dogwalker (Angie) who needed a hand. It was the perfect part-time job for me. An hour a day playing with dogs got me out and excercising again. I explained Reiki to Angie and she said that I would be great at it, this encouraged me to volunteer for her clients. The patient who needed it the most was a miniature schnauzer named Molly, whose 'mum' told me that she suffers lower back pain and has great difficulty getting up and down stairs. So off to Molly I trotted to offer Reiki treatment. As soon as I arrived she seemed to know why I was there. Sitting in peaceful meditation in the backyard Molly immediately stood in front of me staring intently into my eyes. I placed my hands on her lower back. No, no good. She moved away. I thought, "Oh no, what am I doing wrong?! Is Reiki too much for her?!"
Questions filled my head. But I remained with my hands out, quietly offering Reiki. Molly came back to me and moved so that my hands were on her thighs. This was where she would like it, for now. After a couple of minutes she maneuvered again to have my hands on her chest, then lifted her paw, pushing my hand under her chest, then stepping forward a little, "tummy now please". Molly was directing me.
While I was treating Molly, her sister Maude (another mini-schnauzer) came for a sticky beak. Feeling left out she placed her head under my left hand and flipped it up. I was thinking Maude would like her head treated. No, wrong. She lowered her head and moved my hand to her neck. This is the sole position she needed. Her neck was much more stiff compared to Molly's so I just held my hand there. Maude began to drop her jaw a few times and occasionally give a slight yawn. After an hour of one hand on each Schnauzer, Molly standing and manoeuvring, Maude sitting and lying, they seemed to be done. They licked my hands and trotted off inside the doggy door back to their beds to sleep soundly.
I would travel to their house to give the girls treatments a couple of times a week and after a few weeks of treatment I received a text message from their 'mum',
"Guess what! In the 12 months
that we have been in the house, Molly has never climbed the stairs to the upstairs of the house. We have always had to carry her up stairs. This morning she did it on her own! And surprised us! I am sure it is that reiki! Well done!".
A few more weeks after receiving this message poor Molly tripped on the stairs and fell, although she is fine, she hasn't been up the stairs on her own since. A couple of weeks ago I completed Okuden so I am hoping my new skills will assist Molly's confidence building, we will keep trying.