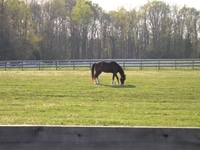 Janet Dobbs is Highly Commended in our Animal Reiki Stories competition and has won herself an online course by the International House of Reiki called The Remembering for the touching story of this old gentleman Jeb…
ps – Everyone who entered the competition also gets to choose one of 1/2 hour Reiki meditations from our online Reiki Meditations! 
I turned off the main road onto the long dirt, tree lined drive that led to TREES (Traveller's Rest Equine Elders Sanctuary). It was a rainy spring morning. I arrived a bit, wanting to have some time with the owner; Chris before the Reiki level one students arrived for their second day of class. We would be finishing up our work with human Reiki and spend most of the day working with the animals. I drove through the gate and got out of my car to close it behind me and noticed people over in the pasture on the left of the drive. My heart briefly came up into my throat. This was Jeb's area. A few days before, Jeb had been taken to the vet and the thought was that it could be his "time". Over 40 year of age, Jeb is the senior member of TREES. I didn't know that horses could live that long.
Jeb was quite a looker. He captured my heart the first time I saw him from afar. He had a huge presence and spirit as he grazed in his pasture. Something about him just pulled at my heartstrings. As I drove toward the house my concern for Jeb continued as I saw that the people were with him in the walk-in shelter in his pasture. My eyes were distracted by Chris sweeping off her large front porch. I knew if anything was wrong with Jeb she would not be sweeping her porch!
I parked my car and walked over to Chris and she told me that the dentist was visiting Jeb. The dentist stepped up on the porch and informed Chris that Jeb had a tooth that needed to come out right away. There was a problem. The dentist was not a veterinarian so she was not allowed to give anesthesia. Chris was given two options: wait for at least one week so a vet could be scheduled or, pull the tooth now with only a topical.
Chris looked and me and I looked at her. She asked me what she should do. I told her to ask Jeb! She said that she was afraid and couldn't. The dentist looked at both of us and asked, "What do you want to do?" Well Jeb took over. He said, "What are you waiting for? Get over here and help me now!" The decision was made. Chris was going to get her husband to hold Jeb and I suggested that the two of us hold the space and offer Reiki if Jeb was agreeable. The next thing I know, Chris and the dentist were already inside the gate to Jeb's pasture. Boy they moved fast. Jeb was not kidding around!
In the mean time one of the Reiki I students arrived. I grabbed her and as we walked toward Jeb and while walking in the rain I asked her if she would like to help offer Reiki during the procedure, that I would tell her what to do. She didn't hesitate and in the gate we went.
It was pouring down rain at that time, so I positioned the student just inside the structure on the right side of Jeb's stall, having her face me and not Jeb. I went to the left side and faced the student. I briefly looked at Jeb. He had some kind of metal thing in his mouth that reminded me of Hannibal Lector. It was actually an apparatus that prevents a horse from biting off the dentist's hand. My eyes got big and then I took a breath connecting me to the earth energy and began offering Reiki. I had already received Jeb's permission to begin the Reiki session. I told the student to set her intention and then to begin breathing into her hara center. I instructed her that as she breathed out and expanded the energy and feel the connection with me and my energy and to offer to Jeb, Chris and the dentist what ever they might need.
We were not alone under this shelter. There were 3 stalls in this walk-in that were filled with horses and next to me were two other horses that were keeping dry. They were all taking in the Reiki healing.
After a very short time I quickly looked over at Jeb. The metal thing was out and there was a little blood on his mouth. I quickly brought my focus back to my breathing and looked away. Suddenly the gate opens, Jeb walks out and begins eating the new spring grass. Jeb had not eaten for weeks. This was amazing.
I looked at my student across from me and she had turned to her right to continue offering Reiki to the horse that was next to her. There were 3 horses to my left all in various stages of accepting Reiki. The one right next to me insisted that I place my hands on her. I did.
I asked the dentist and Chris what they experienced. The dentist said that she had never experienced anything like that. She told us that she reached her hand in to pull out the back molar and it came right out. A bit of root was left behind. She reached in and it too came right out. She was done.
Chris mentioned that Jeb did not like people to be around him or hold him. He would never stand still for an exam. That day he moved slightly at first and as soon as we began the Reiki he was completely calm allowing the dentist to work.
Jeb is my hero and continues to teach me many lessons. One is to listen and trust. Jeb was very clear with what he desired to take place and was a completely different being after the tooth was no longer giving him so much discomfort. He showed me just how powerful Reiki can be when we let go and become one with the energy. Together we created a space of love, safety and healing. Jeb showed all of us the way.
Time stood still for a moment as horses and humans came together in a common cause, allowing healing to take place. Thank you Jeb.
Janet Dobbs is an animal communicator and Reiki teacher for Animal Paradise Communication and Healing, you can email her at [email protected].