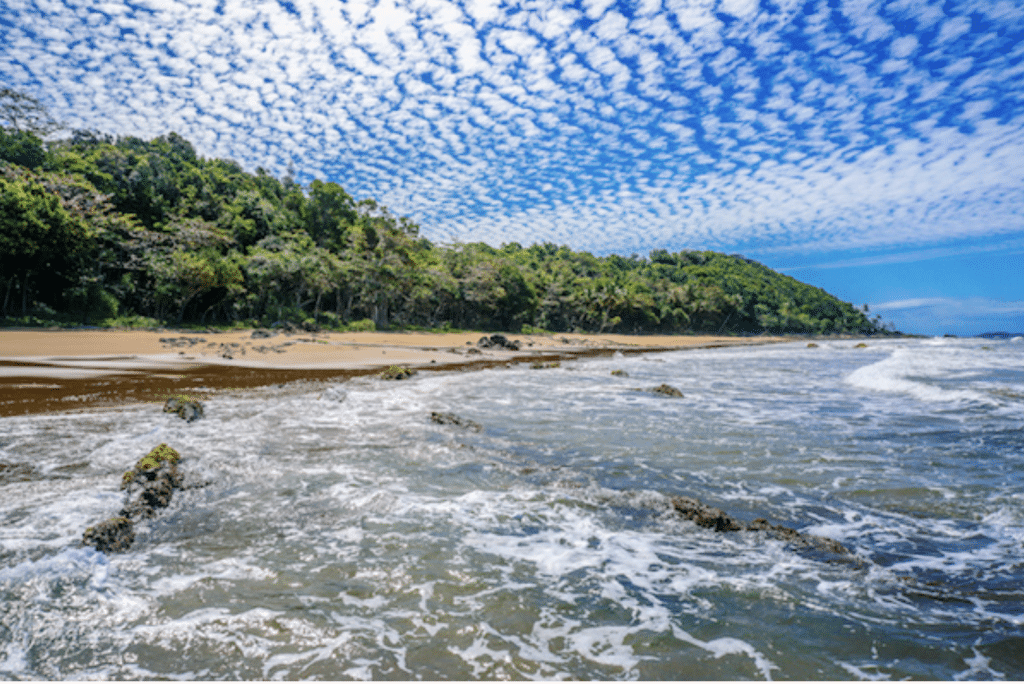 In August, I did a reiki retreat with the International House of Reiki. It's the 10th year that they've done it, and even though I've been hanging out with IHR longer than that, I've never managed to make it before. I always thought it was the wrong time, or I was doing other travelling, or I didn't want to leave my partner and do a trip on my own, or … Always an excuse, so I'm glad I didn't make any excuses this time, I just went!
It was held in the Sanctuary Retreat near Mission Beach in Far North Queensland, about two hours' drive south of Cairns. It's a pretty, quiet and isolated place, with a 20-minute walk, albeit a very steep one, to a gorgeous beach called Garner's Beach. And if you've followed my Facebook or Instagram accounts, you'll know that I met, for the first time, some friendly cassowaries, which are magnificent and strange Australian creatures who have a reputation for being dangerous and aggressive. These weren't, luckily.
Over the four days of the retreat, we met every morning and afternoon for two to three hours, and meditated, chanted and did various reiki exercises, on our own, or in pairs or small groups, meaning we also practised reiki on each other. It was a wonderful way of deepening my practice, with my dear teacher, Frans Stiene, who is one of the world's most well-known and best reiki teachers (though he would be far too modest to tell you that) and his ex-wife, Bronwen Logan, who co-runs the International House of Reiki with him and lead us in a number of beautiful meditations.
As reiki traditionally has been taught by a teacher directly to students (rather than, say, in a classroom or online), I think it's really important to keep in touch with and spend time with your teacher. My brother was my first reiki teacher, but as soon as I started doing regular reiki practices and taking courses with Frans, he became my main teacher who I continue to ask advice and seek guidance from. The retreat was a great way to spend time with him!
But mostly, the retreat was about deepening my practice. This is a way to then bring back deeper treatments for my clients. I can feel it already! It was also great to talk to others who teach reiki, or also give treatments, and with all who were there, who consider reiki an important part of their lives. One thing that was interesting is that when I was receiving reiki, there was a part of my head between my right nostril and ear that was extremely painful. Ouch. It happened every time. As I'm normally used to reiki only being relaxing and pleasant, it gave me good insight into what some of my clients experience who have reported unpleasant feelings during a treatment. It was also a good lesson in trusting that even though the healing didn't feel good that it was necessary to go through (though… ouch).
That was only one of the interesting insights into my own practice and also, the time to relax and be quiet in warmer weather than the Sydney winter, was nourishing. If you're a reiki practitioner, I definitely can recommend this retreat, and for anyone else, I can recommend that taking time to retreat, time to yourself and to be quiet, will be good for other parts of your life. Perhaps take a lesson from me, and don't make excuses. Just make the time and space to do it.
Andy runs ReikiSurryHills