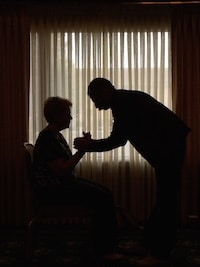 As practitioners or teachers we often say; "I am doing hands-on healing on someone", or "I am working on someone".
But "working on" implies that the practitioner "does something to" the client and the client just has to lie back and doesn't need to do anything! However, as we are not the healers but rather the facilitators; the client needs to be open and have a willingness to heal themselves. Their openness and willingness to heal themselves is the trigger for real healing to take place, because in essence we can only heal ourselves. 
Therefore a better way of saying this would be; "I am doing hands-on/off healing with someone" or "I am working with someone". Saying "with" rather than "on" illustrates the partnership of practitioner and client.
Hands-on/off healing is like a meditative dance and as we all know, it takes two to tango. The way we word things in our practice is thus very important. Words carry energy and energy needs to be empowering and not disempowering. Working together with our clients empowers us both, and thus creates a beautiful dance of healing.
Based in Holland, Frans Stiene teaches in North America, Europe, UK, Australia and Asia.
Frans is also the author of Reiki Insights, it is the continuation of his previous book The Inner Heart of Reiki, taking your personal practice and understanding of the system of Reiki yet another step deeper.