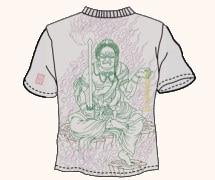 As you know we love Japan and therefore we are happy to have found these good looking Limited
Ediiton T
–
Shirts
with Japanese prints on them.
This is a high-end limited edition
t
-shirt line, designed by world-renowned tattoo artist Marco Serio. There are 7 designs in the first collection (only 6 left), and there is a limited run of each design (700 tees of each). Each
t
-shirt is individually signed and numbered. So hurry up if you would like one as they are almost sold out of their first line!
To order directly please contact Ben Parker: bensamparker(at)gmail.com in New York and tell him what size, style and quantity you want, plus your shipping details. They are available in S, M, L, XL. When you email your order let him also know you that you have seen these
T
–
Shirts
in the International House of Reiki Newsletter.
They are US$ 55 each, excluding postage.
Each T-Shirt also has a small design at the front.
Front of Koi T-Shirt
Bronwen and Frans Stiene are the co-founders of the International House of Reiki and co-authors of The Reiki Sourcebook, The Japanese Art of Reiki, Your Reiki Treatment, The A-Z of Reiki Pocketbook and the Reiki Techniques Card Deck. Bronwen and Frans teach in the USA, Europe and Australia. Visit the Courses page to find a course near you.