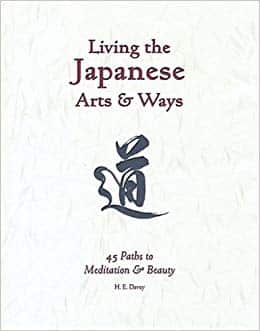 This is Part I of a two part interview.
Frans and Bronwen Stiene interview author H.E. Davey – founder and Director of the Sennin Foundation, a Center for Japanese Cultural Arts in California. The word "Sennin" describes the ancient Japanese equivalent of a yogi. The Sennin were known for their high degree of enlightenment, splendid health, and according to some ancient myths, their ability to attain immortality. This same emphasis on spiritual realization and physical fitness is stressed by the Sennin Foundation, thus the use of the term Sennin.
Since the age of 5, Mr Davey has been heavily involved with Japanese Arts and Ways beginning with aiki-jujutsu. His extensive experience spans martial arts to yoga to calligraphy to flower arranging to healing arts. His own calligraphy is of such a high standard that he exhibits annually in Japan and has received numerous awards in these international exhibitions, including Jun Taisho, or the "Associate Grand Prize".
H.E. Davey's level of understanding and experience enables Frans and Bronwen to ask him many indepth questions about Japanese Arts and Ways helping listeners to gain a better understanding of their own Reiki practice from a Japanese perspective.
He talks in detail about:
What it means to follow The Way
The importance of shugyo in one's practice
Why the word shugyo was probably included on Usui Mikao's Memorial Stone
How Taoism changed when it came to Japan His interpretation of the word Ki
The meaning of the trinity of Heaven (ten), Earth (chi) and Humankind (jin) in Japanese Culture
Listen to Part II of Japanese Arts and Ways
You can order his most recent book here: Japanese Way of the Artist: Living the Japanese Arts & Ways, Brush Meditation, the Japanese Way of the Flower
H.E.Davey's books are published by Stone Bridge Press. They have some fabulous books for those interested in Japanese Arts and Ways.
Bronwen and Frans Stiene are the co-founders of the International House of Reiki and co-authors of The Reiki Sourcebook, The Japanese Art of Reiki, Your Reiki Treatment, The A-Z of Reiki Pocketbook and the Reiki Techniques Card Deck. Bronwen and Frans teach in the USA, Europe and Australia. Visit the Courses page to find a course near you.