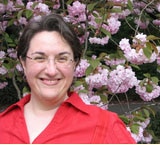 At a Reiki class, teachers often share their Reiki teaching lineage – who their teacher is and that teacher's teachers – in a direct line back to Mikao Usui, who originated the system of practice we call Reiki. Lineage can be spoken of in reverent or proud tones, with people counting how close or far removed, by the numbers, they are to Usui.
I never felt particularly drawn to this idea of lineage; it seemed externalized and overly simplified. And yet it can be important who a practitioner's teachers are. It affects the practitioner's approach in personal self-practice and shared practice with others. For teaching practitioners, it can also directly affect how Reiki teachings are passed along to students and how the teacher models the practice in her character.
Perhaps it was the "line" in lineage that threw me off. For such a holistic practice, one line seemed reductive. Teaching and learning don't follow a single-line path. The process is more dynamic and multi-dimensional, with the give and take moving in many directions, from and to multiple places, weaving together within an individual to become an ever-expanding, cohesive whole.
So I set aside the idea of lineage in my mind for many years, knowing there was something worthwhile there but also realizing I didn't understand it yet.
At a recent Reiki retreat with my ongoing teacher, Frans Stiene, the understanding of lineage, the feeling of it, finally started to come together inside me naturally. The connection I felt with Frans was the starting place, a mutual trust that we have developed over years of study together.
Then, as my teacher wove in as part of his teaching stories of his own life, his family, his students, and his teachers – more than one teacher, and not all of them Usui Reiki teachers – I felt a depth of connection to them, as well. I felt them within me, even though I had never met many of them and probably never will. And somehow that made me notice the connection to my own students in a new, layered way, too.
The other students at the retreat also shined within me, especially those who have been practicing for some time and dedication on this particular path. Some I have known for years and already had a close relationship with. Others, from as far away as Australia and Ireland, I had met perhaps once or not at all before the retreat, and they felt like instant kin.
We were all unique in our personalities and lives, but sharing this path was enough to feel we "knew" one another. And then over four days we found we really did. Trust like what we experienced together doesn't spring from nothing.
Some of the practices we tried at the retreat were older ones than those in the system of Reiki – chants and meditations from Japanese traditions that Mikao Usui likely practiced himself. The system of Usui Reiki Ryoho that has been passed down to us is a simple practice, which is one of its great pluses for those of us who are living "regular" lives but want to find our spiritual center, truth, and overall well-being. Not all of us want a monastic life dedicated to nothing but spiritual attainment, after all.
But as we tried these earlier practices, interspersed with more familiar Reiki practices, I again found this feeling within me of connection, this time to Usui himself, as if Usui were directly teaching me. I will never know his living presence, since I was born long after he died, in another country and culture, but I can taste it through these practices, both those that came from his own lineage and those that have been handed down to us as the system of Reiki.
So lineage seems to encompass everyone who helps to form me. I am discovering that the "line" in lineage is actually me and my life path. There are many life lines that are connected to me like rays of the sun. These include not only Reiki teachers, students, and community, but also family and kindred spirits and friends from all parts of my life, bringing with them their own lineages to mingle with mine.
The truth is, all beings – past, present, and future – are actually part of my lineage. We are each at the center of a star-filled universe, with some stars shining a bit brighter than others within us at any given time.
In this way, lineage represents one of the outcomes of practicing the system of Reiki – a sense of interconnectedness, or as Thich Nhat Hanh calls it, "inter-being," a weaving together of hearts into a seamless, compassion-filled whole.
May each of you recognize the stars in your lineage shining brightly within you. And may you know the joy of your own star shining within those you love, cherish, and respect, as well.
And to my dear teachers, friends, family, and students, indeed to anyone who is reading these words now, and to all that have come before and will come after you, thank you for being part of who I am and who I am growing into. May our lines continue to weave together.
Alice Risemberg is a Shinpiden student of the International House of Reiki. She currently teaches the system of Reiki in Roseville, California. You can visit her at http://ReikiPulse.com and http://www.facebook.com/ReikiPulse.