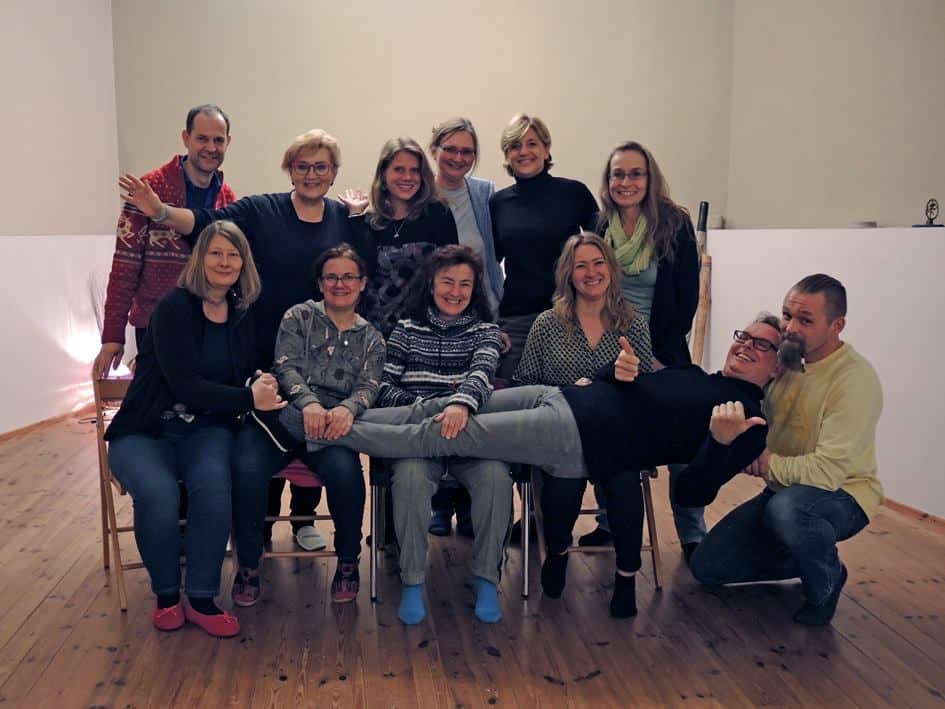 Shinpiden Januar 2019, Köln
Shinpiden jan 2019, cologne, germany
ein Versuch, das Unbeschreibliche zu beschreiben…
I try to describe the undescribable…
Dies hier soll ein Erfahrungbericht werden, über meine Erfahrung berichten als Teilnehmer eines Shinpiden Kurses mit Frans Stiene in Köln, Deutschland.
This will become an experience report, reporting my experience of taking part in a shinpiden course with Frans Stiene in cologne, germany.
Sicher könnte ich einen groben Umriss des Ablaufs geben, auf die Tatsache eingehen, was im einzelnen in welcher Reihenfolge behandelt wurde, wieviel Spass alle hatten, dass wir viel gelacht haben… Dies alles ist ( hoffe ich ) in jedem Shinpiden Kurs so, auch bei anderen Lehrern, auch wenn dieser Kurs dann  Reiki III Meister oer Lehrer heisst, doch mir geht es hier und auch bei allem anderen niemals darum, ob etwas besser oder effektiver ist…
Denn endlich glaube ich begriffen zu haben, wie ich anderen lebenden Wesen am besten mit Reiki helfen kann- und so verblüffend einfach plötzlich die Zahnrädchen ineinander greifen, dass alles einen Sinn ergibt, und dabei keine Probleme, jahrelange Selbstdisziplin mit nervtötenden, Langweiligen Stunden- tage- monate- oder gar jahrelangen der Übung, der Selbstkasteiung oder Verzicht das Leben schwer machen.
Ich dachte immer, dass es ein Ziel ist, diesen Geisteszustand zu erlangen, in dem ich selbst sein muss, um meinem Klienten bestmöglichst zu helfen.
For sure I could write here kind of a time table, what we did when in which order, how much fun we all had, that we laughed a lot… all these is ( I hope so ) in every shinpiden course, with other teachers, even if this course is called Reiki III, Master or teacher class, but with writing this or everything else – it´s never about what is better, more powerful, more effective….
Because now,, finally" , I think to have become aware of what it´s all about, how to be able to help other beings in the best way- and it´s so astonishing easy, suddenly all the little gear wheels click into each other, all makes sense, and this without being big problems there, not really nerve-killing discipline, no mortification, no boring lifelong exercises ( just a few time everyday as long as it feels good ) to make your everyday life harder…
I always thought, it´s an aim to reach this state of mind, in which I have to be to help my client the best way I can.
Das ist es nicht.
It isn´t.
Jeder Mensch ist schon dieses helle Licht. Immer schon gewesen. Wie eine Lampe ( danke Frans, für dieses leicht verständliche Bild ), über deren Lampenschirm Tücher liegen. Diese Tücher sind unsere Ängste, unsere Furcht, unser Ärger ( oh ja, der Typ der da vor  mir so langsam Auto fährt der ist doch echt…. ), unsere Unzufriedenheit, unsere Fehler, von denen wir wissen, und sie doch zu leicht immer wieder machen, unsere Selbstvorwürfe weil wir früher anderen Menschen weh getan haben….
Diese Tücher verdunkeln dieses Licht. Nach aussen hin.
Every human already IS this great bright light. And always has been. Like a lamp ( thank you Frans for this picture that easy to understand ), and the lampshade is covered with let´s say foulards. These foulards are our fears, our being scared of, our anger ( ooooh yes this guy driving in front of me he´s driving that slow this really pisses me off…) our being unpleased, our mistakes we know of, and yet we do them again, our self-reproaches, because we hurt other people before….
All these foulards darken that light. To the outside.
Doch scheint das Licht darunter weniger hell deshalb? …
But is the light itsself shining less bright because of this? …
Jeder Mensch kann diese Tücher ablegen. Und seine wahre Natur, sein eigenes helles Licht heller und damit auch weiter in die (Um)Welt strahlen.
Je ausgeglichener du selbst bist, je mehr du die Lebensregeln verinnerlichst, desto näher wirst du dem Geisteszustand kommen, der nötig ist, um mit deinem Licht anderen Lebewesen zu helfen.
Every human can get rid of that foulards. And let your true nature, your bright light shine into the world, into your environment.
The more balanced you are, the more you embody the precepts, the closer you get to that state of mind necessary to help other beings with your bright light.
Und jetzt kommt der Teil, der weniger leicht zu verstehen ist.
Wenn du jemanden behandelst, ob live oder über Distanz, ist es kein "Geben" oder "Nehmen", beide, der Praktizierende und sein "Klient" geniessen dieses Licht wie die Sonne. Ich als Praktizierender erinnere meinen Klienten lediglich daran, was er eigentlich ist. Ich lasse ihn dieses Licht fühlen, aber nicht meines, sondern unseres, seins und meins. Denn wenn zwei Lampen leuchten, und es hell ist, kannst du sagen, von welcher Lampe die Helligkeit kommt? …
Now to the part more difficult to understand:
Whenever you do a healing, hands-on or distance, there´s no "giving" or "receiving", both, the client and the practitioner enjoy this light like the sun. Me as the practitioner just REMIND the client of what he already is. I let him feel this light, but not mine, it´s ours, hers/his and mine. If two lamps are shining and it´s bright light, can you tell which lamp it is where the lightness comes from? …
Soweit die "Begrifflichkeit"
So far for terminology.
Nun versuche ich in Worte zu fassen, was eigentlich nicht in Worte zu fassen ist, nämlich, wie es sich "angefühlt" hat.
Now I try to catch words for something words can´t really express, how it FELT.
Nun kann man sich nicht einfach hinsetzen und sagen okay, so und so machen wir das jetzt wenn du das verstanden hast, leg los.
Now, you can´t just sit down, say "okay, that´s what we´re gonna do" and just start.
Frans hat es verstanden, uns alle zu diesem Zustand hinzuführen, auf den ich später noch eingehen werde. Wir haben gechanted ( was für viele eine sehr neue Erfahrung war, wie sich die Akustik des Raumes in dem wir waren, zu verändern schien…) Symbole gezeichnet, Mantras ( Mantren? ) gechanted, die Lebensregeln auf japanisch,  Kototama ( Laute, die in den Mantras enthalten sind ) , oder einfach Atemübungen gemacht- so, dass nach und nach jeder diesen tiefen Frieden, diese innere Ruhe, geistige Klarheit ohne Ablenkung erfahren konnte. Ich glaube, dass es für einen Lehrer nicht leicht ist, unterschiedlichste Menschen zu diesem Zustand zu führen- doch Frans hat diese Fähigkeit, eher diese Gabe  unbestreitbar, und wer die Gelegenheit hat, einen Kurs mit Frans zu besuchen, sollte sie nutzen- auch für "alte Reiki-Hasen" , die auch in dem Kurs als Re-Sitter anwesend waren,  eine intensivierende Erfahrung.
Frans knew, how to lead us all to that state, which I will try to tell about later. We chanted ( which has been a new experience for some of us, to listen to how the room acoustics seemed to change…), we drew symbols, we chanted the mantras, the precepts in japanese, kototama ( sounds which are in the mantras ), or just did breath exercises- in the way that everyone after a while could experience this deep peace, this inner silence, this mental clarity without distraction. I believe that it´s not easy for a reiki teacher to lead a whole bunch of different people to this state. Frans has this ability, more a gift without a doubt, und whoever has the opportunity to join a course with Frans, should do it- even experienced Reiki Pro´s, who have been there as re-sitters, had  this experience partly more intense than ever.
Und dann eben diese eine Übung, die ich nie wieder vergessen werde ( was jetzt bitte nicht so verstanden werden soll, als wäre es "der Höhepunkt", der "Knaller" gewesen… ), es war das, was ein Moment war, den ich nur als "out-of-time" bezeichnen kann.
And then this one exercise, I will never forget ( which please shouldn´t be understood as a heyday or a peak ), it was one of those moments I just can describe as "totally out of time"…
Reiju, nenn es einen "spirituellen Segen". Doch auch hier- kein Gebender, kein Empfangender. Zusammen das gemeinsame helle Licht erstrahlen lassen, dass wir beide sind. Und dass das "Du" und das "Ich" nicht mehr da sind. Wir sind eins in diesem Licht. Wir sind dieses Licht. Und so miteinander verbunden, ohne dass es eine Grenze gibt. Ein Moment der Nähe. Und doch nicht. Weil man sich nur nah sein kann, wenn man zu zweit ist. Ineinander Miteinander sein.
Reiju, call it a "spiritual blessing". Even here, no giver, no receiver. Let shine the bright light you have in common, that we both are. That there is no "you" and "I" anymore. We are one in this light. We are this light. Connected without an edge. A moment of being close. And not close. Because you just can be close, if you are two. Being merged. Together.
Es zu beschreiben ist immer nur ein Ankratzen der Oberfläche, weil Worten immer Grenzen gesetzt sind, und sehr oft anders verstanden werden, als sie gesprochen oder geschrieben werden, doch ich versuche es in Bildern zu beschreiben. Ich beschreibe die Übung bewusst nicht in allen Einzelheiten, weil ich fühle, dass es nicht richtig wäre- den Grund weiss ich selbst nicht- doch es ist nichts geheimnisvolles daran, kein Geheimnis, das eifersüchtig gewahrt werden müsste…
To describe it is always just scratching the surface, because words always have limits, and very often are understood different from how they were spoken or written, so I try to describe it in pictures. In purpose I do not tell every detail, for there´s the feeling that it wouldn´t be right- I don´t know the reason myself, but there is no secret which has to be kept jealously.
Dein Übungspartner sitzt vor dir, dir zugewandt, entspannt, und atmet in sein Hara.
Your exercise partner sits in front of you, face to face, relaxed, breathing into his Hara.
Du stehst, Füsse schulterbreit, ausbalanciert, doch möglichst entspannt, die Hände vor dem Hara, die Handflächen zu deinem Hara gewandt.
Stell dir vor, du atmest ein, durch die Nase, dein Atem strömt in dein Hara, dieser Punkt zwei Fingerbreit unter dem Bauchnabel, doch näher an der Wirbelsäule, also innen.
You stand in front of him, balanced, the most relaxed as possible, your hands in front of your hara, palms to your Hara. You breath in and imagine your breath streaming into your Hara on the inbreath, this point two inches below your navel but closer to your spine, inside.
Dort erstrahlt ein helles Licht. Beim Ausatmen strömt der Atem durch deine Haut wieder nach aussen. Nach einer Zeit vergrössert sich dieser Punkt, du kannst es fühlen. Du spürst die Energie aus deinem Inneren an deine Hände stossen, du gehst mit den Händen weiter von deinem Körper weg, so weit die Energie, die aus dem Hara strömt, dagegen drückt. Nun hältst du die Hände mit den Handflächen zu deinem gegenüber gewandt, spürst seine Energie, seine Aura an deinen Händen.
There a bright light shines. Breathing out, your breath streams through your skin outside. After a while, the point enlarges, you can feel it. You feel the energy stream from your inside against your hands, your palms, you follow the feeling with your hands going away from your Hara, the energy pushes your hands away. Now you hold your hands with the palms showing your partner, you feel his/hers energy, the aura.
Nun berühren sich die – nenn es Energiebälle, in denen ihr beide seid, doch ohne Grenze, sie überlagern sich, verbinden sich, und dehnen sich immer weiter aus,
Doch nicht nur eure beiden, die Energiebälle ALLER Menschen im Raum verbinden sich,
der ganze Raum ist nur noch EIN  heller, friedlicher Lichtball, der doch keine Grenze mehr hat, und in diesem Ball ist alles einfach friedlich, ruhend, entspannt.
Now the – name  it energy balls, you both are in, touch, but without an edge, they are layering, they connect, and go on spreading. But not just your two energy balls, the energy bubbles of ALL the people in the room pop into each other, the whole room is ONE bright, peaceful light ball, which has no outer limit, and inside this ball everything is peaceful, calm, relaxed.
Ich fühlte mich wie ein Kind, sitzend in einem Kreis mit vielen anderen Kindern, staunend über diesen Moment, als ob man zum ersten Mal einen Sternenhimmel bewusst sieht, als ob man das erste Mal erlebt, wie Schnee fällt. Verzaubert …
I felt like a little child, sitting in a circle with other little children, being astonished about this moment, as if you see a starlit heaven for the first time on purpose, as if you see snow falling for the first time. Spellbound….
Nach einer Zeit erklingt die Klangschale, für einen Moment ist es schade, dass dieser Zustand jetzt ein Ende haben soll- doch dann erkennst du, dass dieser Moment zwar in seiner Intensität aufhört- doch dass das hier der Zustand ist, dem du in jedem Moment deines Lebens, bei jedem Schritt den du gehst, nahekommen sollst.  Dass es so richtig ist….
After a while, the singing bowl sounds, and for a moment i was sorry to have to let go this state- but then you  realize, that this moment is not in this intensiveness anymore- but this is the state you should come close to, or be in every moment in your life, every step you take. And this is truely right.
Dass dein eigenes Licht dich und deine Umwelt erhellt, wärmt, ruhig macht, friedlich macht. Und der Weg dahin ist gar kein Berg, den du erklimmen musst. Du bist schon da. Du musst dich nur erinnern. Es ist möglich. Es ist nur an dir, es zu tun…
Die Tücher von deinem Lampenschirm nehmen.
That your own bright light brightens you and your environment, it warms, makes silent, peaceful. And the way to this is not a mountain to climb- you are there already. You just have to remember. It is possible, doable. It´s up to you only, to do it….
Take away the foulards.
Ich bin dankbar, dass mein Weg mich in diesen Kurs geführt hat. Frans ist ein Mensch, den man erlebt haben muss- authentisch, wissend, mit der Gabe, auch nicht unmittelbar Verständliches mit einer Leichtigkeit zu vermitteln, die bestimmt vielen Menschen nicht nur ein Licht, sondern einen ganzen Weihnachtsbaum aufgehen liess, doch dabei immer locker, manchmal fast ein Clown- doch niemals lächerlich. Ich glaube, es gibt wenige Menschen, die sich in seiner Gegenwart nicht wohlfühlen. Bodenständig, nicht den Hauch von Oberlehrer, jemand, der die Gabe hat, dich zu etwas hinzuführen, doch immer betont, dass er dir nur die Werkzeuge in die Hand gibt, womit du selbst und auch später deine Schüler arbeiten können- die doch nur alle zu demselben Punkt führen- in diesen Raum. Die Werkzeuge sind die verschiedenen Türen und Fenster zu diesem Raum. Den Weg zeigend- doch du gehst selbst diesen Weg. Du gehst deinen. Nicht seinen.
I am grateful, my path lead into this course. Frans is a man you have to have experienced- authentic, knowing, with the gift to explain even not directly understandable with a facility… in german if you suddenly understand something you didn´t understand before for a long time, a light pops up. If Frans explains some things, it might happen, that a whole christmas tree pops up … but he is always relaxed, sometimes a bit of a clown- but never ridiculous. In my believe there are just a very few people who don´t like being close to him. Down to earth, grounded, not the slightest bit of schoolteacher know-it-all, someone who has the gift to lead you to something, but always pointing out, that he just hands out tools, you and your students can work with after- all leading to the same point- to this space. The tools are the windows and the doors to this room. Showing the way- but you yourself walk this way. You go your way- not his way.
Nochmals danke an alle, die diesen Kurs ermöglicht haben und alle, die dabei waren… wohin auch immer unsere Wege uns führen; danke, dass wir diesen Raum, diesen Moment, der doch kein Moment war, weil Zeit keine Rolle gespielt hat, teilen durften.
Thanks again to everbody who made this course possible, to all who took part… wherever our paths will lead us; thanks for being allowed to share this space, this moment, which has been no moment, because time was not important anymore….
Based in Holland, Frans Stiene teaches in North America, Europe, UK, Australia and Asia.
Frans is also the author of Reiki Insights, it is the continuation of his previous book The Inner Heart of Reiki, taking your personal practice and understanding of the system of Reiki yet another step deeper.