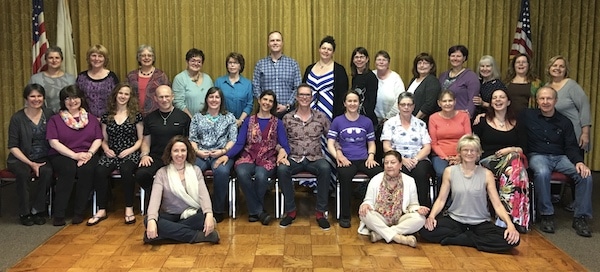 Yup, that happened. In May, 2017 in Boston/Newton, Massachusetts, 28 Reiki practitioners actually did walk into a bar for a 3 day Shinpiden (sometimes called Reiki Master) class with Frans Stiene.
Say what? Reiki in a bar? Not exactly what you'd expect when you sign up for a class with a globally known teacher/author who just days before gave a keynote speech for 250+ people at a popular Reiki conference in a fancy hotel. That conference, and this class, attracted attendees from all six New England states, New York, Pennsylvania, and even California and Canada.
At my first Shinpiden with Frans, I listened as others in the introductory circle said that they were "resitting" for the second, fourth, sixth time. One woman admitted with a laugh that she was "kind of a Frans groupie". (Along with spiritual teachings and practice, there is a lot of laughter in Frans' classes.) I thought, "Wow, I'm really happy to be here today, but I don't see myself doing it again." But I saw that Frans was such an inspiring teacher, so full of knowledge and insights, so connected to his own practice and learning – and so fun! So here I was, preparing to return for the third time. 
Our class organizer Judy had done a stellar job planning, doing, communicating, connecting – and managing some unexpected events like a late stage venue change. Instead of a lovely immersive weekend where several of us (and Frans) could walk down from our rooms in the retreat center on a pretty tree-lined street, grab a cup of tea in the dining room and walk to the cozy room with the warm colors and fireplace, our lovely immersive weekend now included driving 15 minutes to meet in the large stark function room of a members' club with tables and chairs stacked at the walls. But that was fine; it wasn't about the place. It was about the teachings, the people, the direct experience.
On class day 1, some of us made it just on time or late, whether due to traffic, parking, finding the entrance (scenically located between the shoe store and pizza place), or whatever. At the locked door, we pressed the button to be buzzed in – Secret Boston Reiki Society! 🙂 – and climbed the stairs to the second floor. We opened the door…and walked into a bar. Arriving earlier, Frans and Judy had discovered that the function room's carpet had been shampooed and still was too wet for us to use the room. So, into the adjoining bar for the morning. 
Lighting was a bit dim and noise level a bit high, with the hum of refrigerators making it hard to hear anyone sitting more than a few seats away in the circle. It looked less like a place to delve deeply into connecting with our true selves and each other than it did a place to delve into a drink or two. Frans and Judy handled it all with grace, balance, and humor, greeting students warmly, chatting, pointing out tea, snacks and restrooms, joking and noting that here was a perfect chance to practice the precepts, and it's all good. Indeed it is.
Frans started class soon after we arrived. Having been to two classes, a retreat, and virtual practice evenings, I knew he had a gift for creating, holding, and facilitating space where people can feel comfortable, supported, and open: open to allow healing to take place, open to the experience of what is happening right now. Listening to him, I felt sure that no matter where we were, I would enjoy class and would be glad I came.
I imagined my fellow resitters and friends would too. But, ever a caretaker/caregiver, still working to show compassion for self as easily as for others, I thought about those here with Frans for the first time, those I hadn't yet met. I wondered what they might be thinking, be feeling, hoping they would come away from class as I always had. Hoping I would come away from class as I always had: refreshed, renewed, inspired, connected.
As Frans has said, hope and fear are related: hope means there is some fear – big or small – that something you want may not happen. If, instead of my flash of hope/fear, I let go and had faith that everyone in that bar would receive whatever it was we needed that weekend, that would have been more true to my way and to the precepts. Not to mention that in my wonderings, I was comparing and judging things about the place, people, experience. Even if it felt like this came from a place of care and compassion, really it just came from the mind.
And it came from a place of me/them, I/others, forgetting for a time that this place really only exists in the mind. When we go deeply into our true self, connecting to our bright light, we can see that we are them and they are us, that we all exist in the same space together, with no boundaries, no giver, no receiver.
Frans is really good at reminding us of that, and our practice is excellent at reminding us of that. When I stopped trying/thinking/helping/doing and just dropped into that space of openness, it was a beautiful thing. To practice with "others" – whether in Reiju, chanting, hands-on healing, just being – to feel each "one" melt into One is also a beautiful thing, an experience which can and did move people to tears.
For some it was tears of joy; for some it was to express or release parts of our humanness. We all have things in our lives and things we may not even consciously remember. For me it was both: some current things and a 2013 brain injury that I don't remember and that now just "is what it is", a part of this thing called "me".
We were chanting the DKM mantra. I love chanting; the rhythmic, melodic, dissonant sound of voices of all tones rising and falling and blending into one always touches me. Sometimes it's with joy, connection, love, grounding. You never know. This time it brought up tears, which became soft sobs, then shaking sobs, and all-out crying. Still a bit quiet – as safe as I felt with the group, some self-consciousness stayed around to keep me from wailing and pounding on the floor like I've done a few times alone in my Reiki room on my yoga mat.
I felt a hand touch my knee and looked up at the young woman next to me who I'd just met the day before. Her eyes were full of love and sympathy as she put her arm around me and maybe said something comforting or asked if I was OK. I don't remember, but I do remember asking her, between sobs, to "Please keep chanting. You have a beautiful voice." She resumed and we sat there, rocking a little with our arms around each other and me sobbing into her shoulder. She was half my age and it felt like she was the mother comforting her child.
That comfort, the sound bath of the group chanting, and the crying (which I maybe don't do often enough) helped tremendously. Eventually I felt calm, peace, and then joy all return and was able to sit up and smile at her with everything I felt in my heart, which included a vast amount of gratitude. I felt that the chanting had helped me let down my "Oh I'm fine" guard enough to connect to the great bright light inside. And it was telling my human self that getting out of my head, into my body, into my heart and beyond might be a good thing.
And it was, always is. A good thing, a healing thing, and just one thing among countless others – moments ofbliss, connectedness, discussion, practice, and crazy fun. It's easy to love a teacher who one minute can be sharing deep teachings and practices that make you think or feel about Reiki in ways you may not have before and in the next can be making you laugh by standing on his head or leaping over a student.
And it's easy to love a class where each person, some in quiet ways, others in words or hugs, where eachperson just radiates love, compassion, and kindness. That's how it felt – deep interconnection and so much love! It was a bigger class than others I'd taken and when it was over I realized there were a few folks I never actually spoke to. I felt a twinge of regret at that, but then realized that it didn't matter if we used words or not. We all were talking to each other all weekend long, through our hearts. And that's the greatest buzz of all.
So 28 Reiki practitioners walk into a dimly lit bar…and emerge with enough brightness to light up the world.